Wednesday, January 14, 2009
Posted by Don Tolson in "Pocket PC Hardware" @ 09:00 AM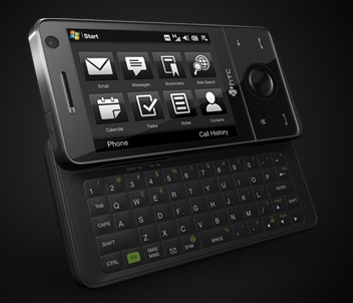 Product Category: PDA Phone w/keyboard
Manufacturer: HTC
Where to Buy: Expansys [Affiliate]
Price: $649.99 USD
System Requirements: Windows Mobile 6.1, with HTC's TouchFlo 3D interface
Specifications: Qualcomm MSM7201A CPU at 528 MHz, Windows Mobile 6.1 Professional. 512 MB of storage ROM and 288 MB of system RAM. It is 102mm tall, 51mm wide, and 18.05mm thick and weighs 165 grams with its 1340 mAh battery. It has a 2.8 inch VGA screen, GPS, Bluetooth 2.0, 802.11 b/g, and a slide-out QWERTY keyboard. Quad-band GSM phone (850/900/1800/1900 MHz), 3G capable for HSPD/WCDMA for up to 2 mbps upstream and 7.2 mbps downstream. The main camera is a 3.2 megapixel camera with auto-focus and flash, with a secondary front-facing VGA camera for video calling (may not be available on NA models). It also has a microSDHC card slot.
Pros:
Screen is amazing -- clear, bright, beautiful;
HTC's TouchFlo 3D interface very well thought out and executed;
Good package of accessories and added software.
Cons:
Battery life isn't stellar -- not bad for a VGA though;
Version reviewed is from Europe, so it wouldn't work on North American 3G networks (be careful what you buy!);
Front screen is a magnet for fingerprints and streaks, but easily cleaned.
Summary: Truth in reviewing -- I lusted after this phone when I first starting hearing about it as the successor to the Kaiser/Tilt. Then, when I starting seeing some of the technical reviews and comments in XDA-Developer forums, my desire just got worse. I practically fell off my chair when Jason said he had one 'hanging around the office' and would I like to review it? "Uh, sure", I said nonchalantly, but I couldn't wait for it to arrive and to put it through its paces as my primary work phone/PDA for a week. So, did it live up to my expectations? Find out after the break....
The Touch Pro Package
By now, many of our readers have heard, seen or own an HTC Touch Pro (or FUZE, as it is branded by AT&T). Available in the European markets for about three months, and recently released in North America by AT&T (GSM), Verizon and Sprint (CDMA), the Touch Pro is clearly targeted to the power/business user -- both in terms of price and packaging. HTC has obviously spent a great deal of time thinking about how to package this for the upscale, pro-user since every part of the packaging and presentation of this product says that it's different, cool and sophisticated. Jason's unboxing video provides a pretty good review of the sleek, pyramid-shaped box it comes in and what comes with the package, but for those of you who may have missed it or want another look, here's what comes in the box.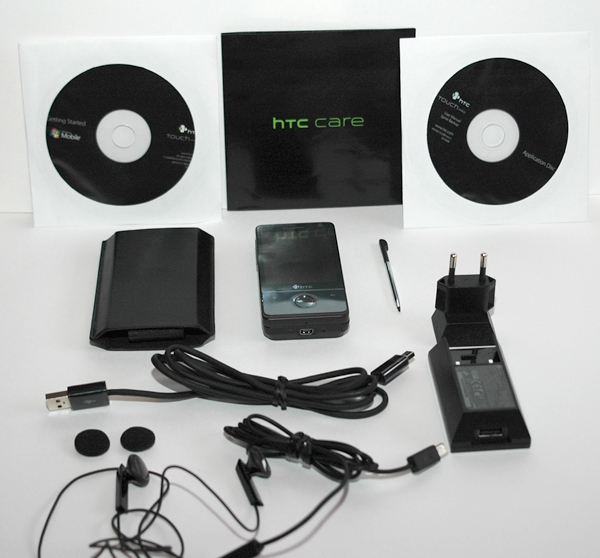 Figure 1: The Touch Pro package includes (clockwise from top left) Windows Mobile CD with Activesync, HTC Care Warranty information, Applications CD with Sprite Backup and User Manual, extra stylus, universal USB wall charger (the review unit came with a European power plug), stereo earbuds (no mic), cloth covers for the ear buds, USB charge/sync cable, leather slip case, and of course, the Touch Pro.
Not a bad haul, overall. Clearly, HTC has thought about what the average power user needs with their PDA and made sure that there is good value in the package. About the only thing missing is the VGA-out cable, but this is available separately for about $30 USD. The leather slip case provided is different than ones normally found from manufacturers, in that it has stiff sides and an elastic loop inside, to keep the unit from sliding all the way through. There's no belt hook though, so it really only acts as a holder/protector for the screen. The power supply provided is a standard wall socket to USB model, so pretty well any unit will do.
---