Wednesday, November 4, 2009
Posted by Don Tolson in "Pocket PC Software" @ 08:30 AM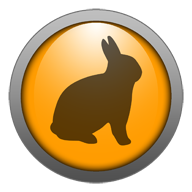 Product Category: GPS-assisted software
Where to Buy: From the developer -- download available here; or from the Windows Marketplace
Price: $3.99USD
System Requirements: Marathon requires a Windows Mobile 5.0+ Professional device with a GPS receiver and a screen resolution of at least 240x240 pixels.
Specifications: Requires approximately 400K of storage memory. Cannot be installed to Storage Card.
Pros:
Very easy to install, configure and use;
Main user interface is very intuitive, but there are lots of settings for individual customization.
Cons:
Not possible to pause timings if you stop for a drink or chat;
Some of the terminology used is confusing (eg. Sprint vs Track) A Help file or glossary would be useful.
Summary: Training up for that next marathon or triathalon? Or maybe just looking for something to provide an extra nudge for your personal 'Biggest Loser' exercise program? Marathon, a GPS-enabled software package from JMD Software may be just the right coach. It provides a simple, easy way to track your progress whether you're walking, running, biking or even rallying by car!
Introduction
I found out about this application via an article on the FuzeMobility site. My wife and I have taken up walking to help with strengthening her back after surgery, weight loss, and general overall health. (It's also a really good time for us to talk about 'stuff' going on and reconnect after our long work days.) Around this neck of the woods, there are numerous parks and lakes available for hikes, but it was difficult to get distances so we could figure out how far and how fast were walking. We needed some way to measure our progress.
Voila! Along came Marathon, which turned out to be a perfect solution for us.
Acquisition and Installation
Marathon is currently available on the developer's website (see link above) or from the Windows Marketplace, but the Marketplace doesn't have a WM6.0 client just yet. The version I tested was the latest one available, but there may be another ready by the time this review is published. The software comes as a .CAB file which you download directly to the device, then double tap it from the File Explorer to execute the install.
I tried installing to Storage Card, but I couldn't get it to work. It says it installs correctly, but when you try to run the program, there was a 'missing component' error and the program exits. So, you'll need to install it to Device Memory.
Setup and Configuration
Once installed, I ran the program and it had no problem finding the embedded GPS receiver in my AT&T Fuze/HTC Touch Pro, but you need to ensure that the setting in Settings/System/External GPS/Access is set to 'Manage GPS automatically' -- in other words, let WM figure out where the GPS is located and how to connect the application to it. There aren't any specific instructions within the application for connecting to an external GPS unit, but the FAQ on the website describes essentially the same procedure -- configuring Windows Mobile to point to the GPS unit via the appropriate COM port and speed, then setting the Access to allow Windows Mobile to attach applications to the GPS.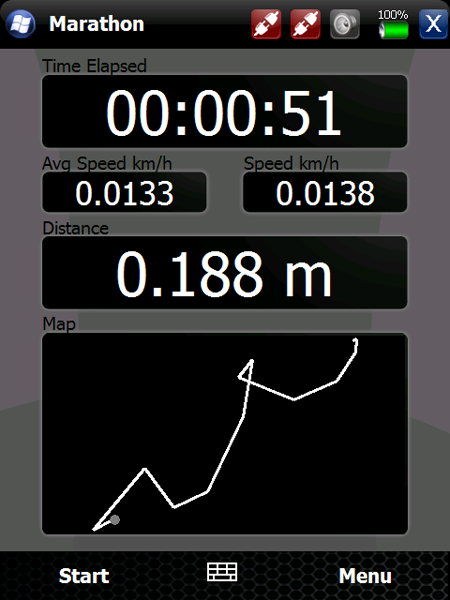 Figure 1: The main screen of Marathon, after it has acquired a GPS lock and you're on your way. The 'map' in the bottom part of the screen shows relative distance and direction, and scales out as you move further, in order to keep the entire track on the screen. As you can see, I haven't got very far and I seem to be stumbling around a lot :-) Actually, I'm sitting still the whole time. What you are seeing is variation in GPS position caused by trying to get a stable position lock while inside a building. But at least it gives you an idea of what the interface looks like as you move around.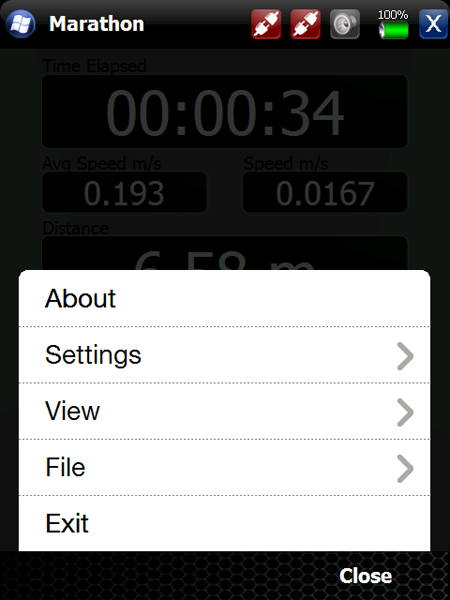 Figure 2: This is the main menu of Marathon which provides access to the various user customizations available. About provides information on the developer and version of the application. The Settings, View, and File menus are described in detail below.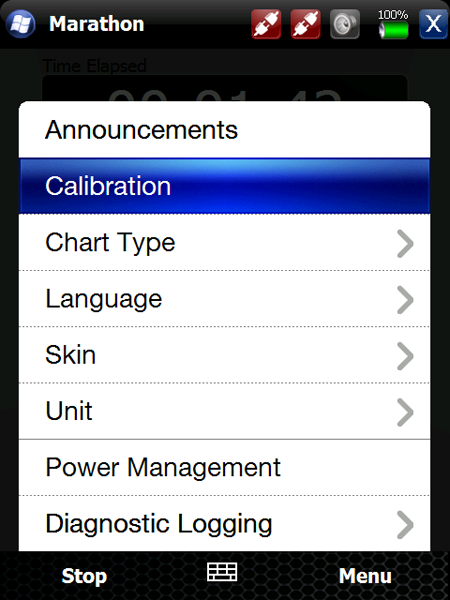 Figure 3: The Settings menu provides lots of options to customize the way Marathon works.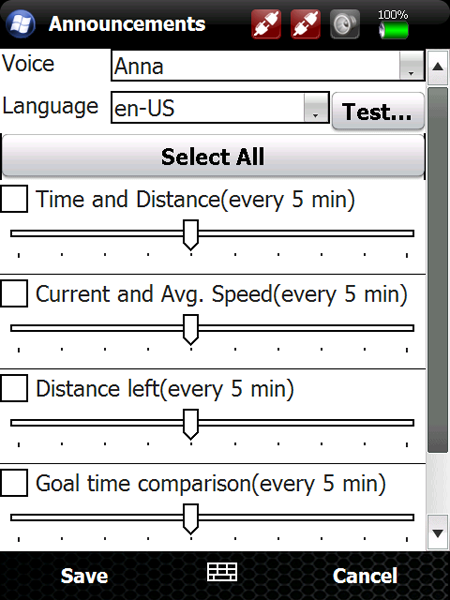 Figure 4: A recent addition to Marathon is the ability to provide audio announcements of various parameters as you progress. Currently, the only voice available is 'Anna' (female) and US-english is the only language. The sliders change the interval between announcements (1 to 10 minutes). There are two options not visible in this screenshot -- to exclude announcing seconds and increase the number of decimals (accuracy) of the measurements.
Figure 5: The calibration screen allows you to adjust the measurement of distance to match actual on-the-ground distances, such as a curvy track through a forest. The slider provides adjustments between 90% and 125%. You can set this globally for the entire application or for a specific track.
---