Monday, May 25, 2009
Posted by Don Tolson in "Pocket PC Hardware" @ 09:00 AM
Smart Navigator
As promised, I'm including a short review of Smart Navigator, which Pharos provides on all of their Traveler units. It's been a couple of years since we last reviewed Pharos' turn-by-turn navigation system, Ostia. While many phones provide a rudimentary location and routing system using cell phone triangulation and Google Maps, there are limitations. To get you where you need to be accurately and consistently, you really need a GPS-enabled system with current, complete and accurate maps.
In many respects, Smart Navigator is very similar to Ostia, but with a better organized, finger-friendly menu system and expanded capabilities to download updates to the maps, POIs, and software directly from the Internet. The version which came with my T127 was a 'pre-production' version, so there were a few niggles which have been addressed in the version currently available.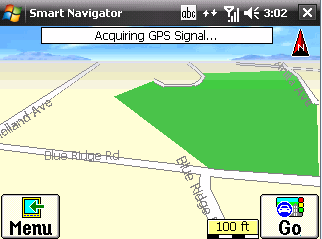 Figure 20: Here's the main screen of Smart Navigator when you start it up and get through the 'Yes, I agree to be a safe driver' warning.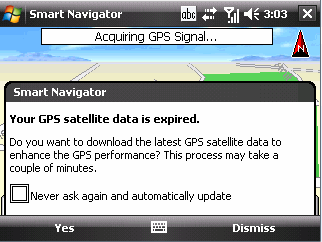 Figure 21: You get this screen too, when you first start up Smart Navigator. It's presented when SN wants to update the aGPS information to assist with getting the initial fix and keeping the lock even in tunnels, etc. For me, it was a bit annoying, since they don't provide the option I want, which is 'No, don't download, and don't ask me again.'
Figure 22: The menu system in Smart Navigator has been redesigned to look more professional and be much more finger-friendly. The arrow at the bottom of the left menu takes you back to the map screen, rather than providing more options, as you'd expect.
While Smart Navigator is not the flashiest of the navigation packages available, it certainly contains most of the features of the big boys. World-wide coverage maps are available -- either provided with the initial package purchase or as a download via subscription from the Pharos website. The maps are provided by TeleAtlas and are frequently updated and in most cases are between 6 and 12 months old, which is not at all bad for navigation maps. In the new version, maps and POIs are provided as either completely preloaded with the unit, or downloadable from the Pharos servers via an Internet connection (either WiFi or GPRS/3G).
The voice and text prompts within Smart Navigator are also available in a wide variety of languages.
As mentioned in the GPS radio section above, Pharos has spent a lot of time ensuring the software is well integrated with the GPS receiver, so Smart Navigator can be ready to use quickly. It's Time to First Fix (TTFF) was well under 30 seconds, even indoors -- much less if standing outside.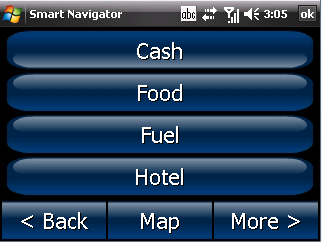 Figure 23: Classifications of POIs.
POIs include the usual assortment of gas stations, teller machines, restaurants, hotels, tourist sites, etc. etc., etc. For my neck of the woods, the maps were as good as any available, but I found the number of POIs to be a bit on the light side. My interests tend to be more esoteric, so I'm typically looking for sites which would be of little interest to the average tourist. In the latest version of Smart Navigator, if a desired POI can't be found on the local card database, SN will automatically attempt to connect to the Pharos servers to search the more extensive set of POIs available there.
Setting up a route is simple and straightforward. From the main screen, press the Go button, define your destination from the list of POIs, as an address, or as an intersection, then Smart Navigator will find you the quickest route to get you there. You can even define a multi-point route where you have a number of stops before you reach your final destination.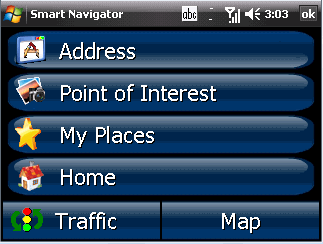 Figure 24: The options available when you press the Go button from the map screen.
Routes can be set up to pick the fastest route, the shortest, avoid highways, ferries, etc. I set up a number of trips in Smart Navigator, including one of about 300 km to our local ski mountain. Around the city, Smart Navigator found new and innovative ways to get me to my destination, but they were always accurate -- both from the directions given (no going the wrong way on a one-way street) and the estimate to arrival. On the longer highway trip though, the ETA was off by almost an hour at the beginning of the trip but I think this was due to an inaccurate 'average traveling speed' recorded for the highway. (I've seen this on other systems/maps as well). Fortunately, the ETA is updated as you move along.
Figure 25: The main navigation screen, once a route has been determined. This is pretty similar to what we saw in Ostia, with the top line showing distance to the next turn, the street you are turning on to, and the distance to your final destination. All of this information can be personalized to your needs. The thick blue line designates the route.
The navigation screen while you're on the road is clear and uncluttered, and you can see at a glance what is coming up. This hasn't changed much from the original Ostia, but they have simplified some of the icons and the overall interface. Even with poor GPS satellite signals, Smart Navigator was able to keep me located on the road. Both the Traveler 117 and 127 have Assisted GPS(aGPS) enabled in the receiver chipset.
Smart Navigator is not TMC (Traffic Message Channel) enabled on the Traveler 127, since there is no FM receiver installed. Pharos overcomes this by providing the same information via MS Live Search and downloadable traffic info from their server. Unfortunately for me, traffic info isn't available for my little burg...
As with Ostia, voice prompts are available in a variety of languages and are provided at various distances (800m and 30m) away from your next turn. The voice prompts are smoother in this version, but still have some interesting lilts not usually found in conversational English.
Conclusions
The focus of the Traveler series seems to be in providing traveling business people with a complete, all-in-one unit, which can handle most, if not all of the things they are going to need during the working day. So, in one handheld, you get a phone, navigation unit, camera (for those 'Kodak' moments), PDA, MP3 player, etc. etc. etc.
While the Traveler 127 isn't extraordinary in any specific area, it is a very workable compromise of everything that a traveling business person would need in a digital assistant. It can handle communications and messaging well, has a reasonable media set for a handheld unit, including a camera for those quick shots to send back to family, and the navigation system is accurate, updateable, and flexible enough to get you from point A to point B no matter where in the world you land. Overall, not a bad package for the price...
Don is an Associate Director with Fujitsu Consulting, and the lead of its Enterprise Mobility practice. Hang on, Pharos' premiere Traveler 137 is on its way!
---