Wednesday, October 20, 2010
Posted by Jason Dunn in "Windows Phone Talk" @ 04:53 PM
It's a story I need not go into too many details about: anyone who's owned a PDA or phone running Windows Mobile, from the first Pocket PC to the latest Windows Phone 6.5, knows the horrors of device ROM updates. Whether it's a new ROM image designed to fix bugs and enhance performance, or a whole new OS, as buyers of these devices we've always been at the mercy of the device manufacturer and/or the wireless carriers. Who amongst us hasn't raised a fist in anger at being denied a vital software update that would fix a problem with our device? This is how the entire underground ROM scene was born - out of frustration and desperation.
Or, if you were "lucky" enough to have an update offered for your phone, you'd have the pleasure of re-installing and re-configuring everything on your phone; often a process that would take hours. Microsoft's broken model, combined with OEM/carrier refusal to offer updates likely drove more customers away from buying a second Windows Phone than any other factor. We could only look on with envy as our iPhone-using kin happily docked their phones, got an update, and were using it minutes later.
Well, envy begone! Windows Phone 7 solves this pain point once and for all - witness my interview with Andrew Brown, Program Manager for Windows Phone Update, and be amazed...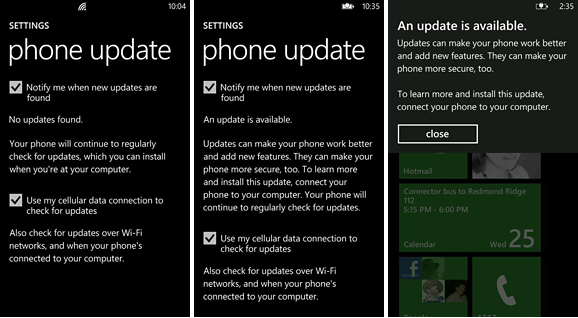 WPT: Let's start with the best news I've heard about Windows phone 7: how will device updates work now? What will the update mechanism be?
Brown: Like many other things in Windows Phone 7, we're taking a different approach to updates than we have in the past with Windows Mobile. To start with, we're going to leverage the world-class infrastructure we already have with Microsoft Update today and use that to deliver updates directly to Windows Phone 7 phones - no more worries about figuring out where to go to download an update. We're also making it much easier on our partners (OEMs and Mobile Operators) by establishing a single, consistent update process that they can take advantage of, meaning they don't have to be responsible for their own individual update creation and delivery like they've had to do in the past. So it's really a win for everyone.
We've also built in a notification that pops up right on the phone that tells you when an update is available. When you see that, you connect your phone via USB cable to a computer running the Zune client software. At that point it's literally just one click and the update is downloaded and transferred to the phone, a restore point is created, and the update is installed, all done automatically. Read more...
---