Wednesday, August 4, 2010
Posted by Don Tolson in "Windows Phone Accessories" @ 07:00 AM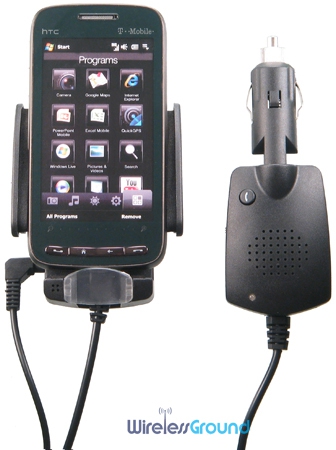 Product Category: Phone Accessories
Manufacturer: WirelessGround
Price: Starts at $49.95USD regular price (but it may be on sale!)
Specifications: The car kit as provided was specific to the HTC line of phones. A full list of compatible models is available at WirelessGround. Car kits for other manufacturers are available.
Pros:
Good snug fit for the HTC Touch Pro 2 and Touch Diamond 2 tested;
Having the speakerphone built into the lighter charger unit is a good solution;
Easy to install and use.
Cons:
No instructions provided on how to hook up and/or use the speakerphone;
Microphone is either located too far away or not sensitive enough;
Flexible arm mount allows too much sideways movement.
Summary: By now, car kits for mobile devices are becoming pretty ubiquitous and seem to have roughly the same construction features: suction cup, (slightly) flexible arm, power unit, and an adjustable cradle for the unit. WirelessGround has introduced a Universal Car Kit for the HTC line of phones with an interesting extra -- a speakerphone built into the cigarette lighter charger unit! With the advent of new cellphone use laws for drivers here, I was looking for some sort of speakerphone option for the van, so I thought I'd give it a try.
---