Monday, August 9, 2010
Posted by Don Tolson in "Windows Phone Accessories" @ 07:00 AM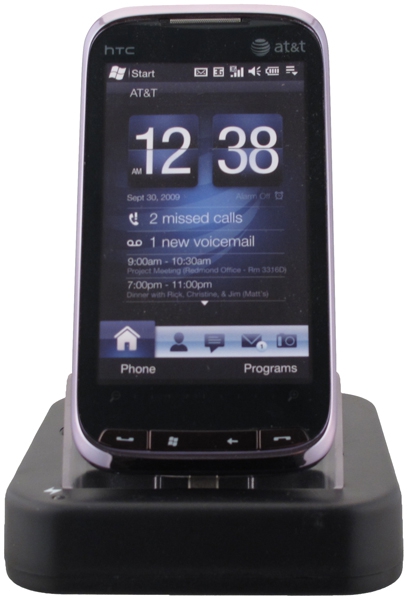 Product Category: Phone Accessories
Price: $49.95USD regular price (check the site -- it may be on sale!)
Specifications: The models I tested were for the AT&T Tilt2 (HTC Touch Pro 2) and the ATT Pure (HTC Touch Diamond 2), but other models are available. Unit is 95mm (3.7in) x 110mm (4.2in) x 48mm (1.8in), and weighs approx. 125g (4.4oz)
Pros:
Solidly built unit with enough weight to keep things stable;
Sturdy support for the phone;
Built in accessory battery charger.
Cons:
Power/battery status light blinks alternate green/red (annoying) whenever power adapter is used with no accessory battery;
ATT Pure version doesn't take into account the USB port cover flap.
Summary:
If your phone spends a lot of time at the office (home or otherwise), having a desktop charger stand can be a worthwhile investment. Not only does it provide a convenient 'home' for the phone while you're working, but it makes the phone much more useful as a desk tool (clock, next appointment reminder, alarm, etc.) than having it in your pocket. Let's take a look at the integrated desk chargers provided by WirelessGround for two of the HTC phones.
---