Wednesday, January 21, 2009
Posted by Don Tolson in "Pocket PC Hardware" @ 09:00 AM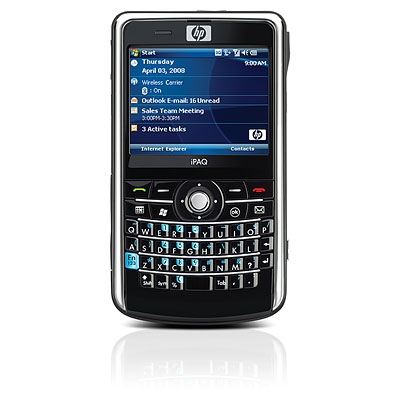 Product Category: 3G touch PDA Phone with embedded keyboard
Manufacturer: HP
Where to Buy: Expansys [affiliate]
Price: $484 USD
System Requirements: Runs Windows Mobile 6.1
Specifications: Marvell PXA270 Processor running at 416 Mhz, 128 MB of RAM and 256 MB of ROM. Quad-band GSM/GPRS and tri-band UMTS/HSDPA, able to get 3G/H anywhere it's available. 3.0 megapixel camera, USB 2.0, BT 2.0 with EDR. 1940 mAh battery, 802.11b/g. Weight is 154g (5.4oz) with battery.
Pros:
Solidly built, very reliable, lightweight and easily pocketable;
Keyboard feel/design works well to prevent keying errors -- very solid tactile response;
GPS sensitivity and stability is excellent;
Battery life is very good.
Cons:
Accessories package is a bit light -- should have included a cover/case and a second stylus;
The position of the USB sync port and its rubber cover are a pain to work around.
Summary: I've owned numerous HP iPAQs over the years -- from the venerable 1950 through the Jornada series to the Messengers. While HP is not always the first with the latest and greatest features on their PDAs, I've always been impressed by the quality and reliability of their products. The hardware is very durable and stands up to the rigors of daily office and personal use, and the software provided clearly has the corporate user in mind. The HP iPAQ 910c Business Manager is no exception. This is a solidly built unit that will serve the business/corporate user very well. It doesn't come with a sexy, gesture-based interface, but it does everything it claims to do well, and consistently. Read more...
---