Wednesday, November 12, 2008
Posted by Darius Wey in "Pocket PC Developer" @ 10:30 AM
"Windows Mobile 6.1.4 includes the new Internet Explorer Mobile 6, a full-featured browser for Windows Mobile devices that brings the same high-quality browsing experience to the user as desktop browsers. Internet Explorer Mobile 6 supports desktop-quality rendering and has the best compliance support of all versions of Internet Explorer on a Windows Mobile device to date. Several new features and improved support allows users to complete tasks quickly and easily."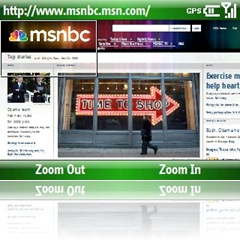 Microsoft has updated its Windows Mobile emulator images to 6.1.4. This release includes the new Internet Explorer Mobile 6 - which isn't exactly a stellar upgrade to this infamous browser, but a welcome one nonetheless. For a list of new features, check the Windows Mobile Team Blog.
These images will appeal most to developers. For the end-users reading this, you know the drill: if you want Internet Explorer Mobile 6 on your device, you'll have to wait and hope that your respective OEM or carrier feels ever-so-generous and blesses you with an update.
---