Thursday, May 27, 2010
Posted by Eriq Cook in "Windows Phone Software" @ 02:30 AM
"Elecont Weather has been updated, increasing the worldwide weather coverage from 41,000 to 67,000 cities. Version 1.3.5 also includes a 10-day weather graph for day and night temperatures, an independent scheduler for weather updates, and added information on moon phases and moonrise/moonsets over a ten day period."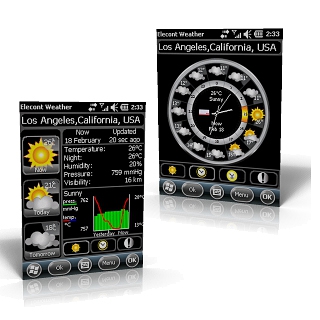 While it definitely shows more weather information than my HTC smartphone with Sense interface, Elecont Weather for Windows Mobile is a great app for viewing detailed weather data including hour-by-hour forecasts, alerts, and much more. This would definitely come in handy those who travel often and/or spend a lot of time out in the open.
Elecont Weather is currently on sale for $9.95 (regularly $14.95) until May 29th directly from elecont.com. A free 10-day trial is also available for download.
Have you used Elecont Weather before or plan on checking it out?
---