Tuesday, February 16, 2010
Posted by Jason Dunn in "HTC Windows Phones" @ 03:30 AM
I was part of a conference call with Eric Lin from HTC last Friday, and in that call he told us about three new phones coming out soon. Two of them were Andriod-based (HTC Legend, HTC Desire) so of little interest to me, but the third was very exciting: the HTC HD Mini. Before I get to that, it's interesting to note that all three of these phones were designed by One & Co, an industrial design firm that HTC purchased in late 2008. One & Co continues to serve other clients, but when it comes to wireless phones, they only work for HTC. One & Co designed the HTC Diamond, which, love or hate the angled back, you have to admit was a phone that looked unlike anything else HTC had ever created. One & Co has also designed the Microsoft Arc mouse and Arc keyboard.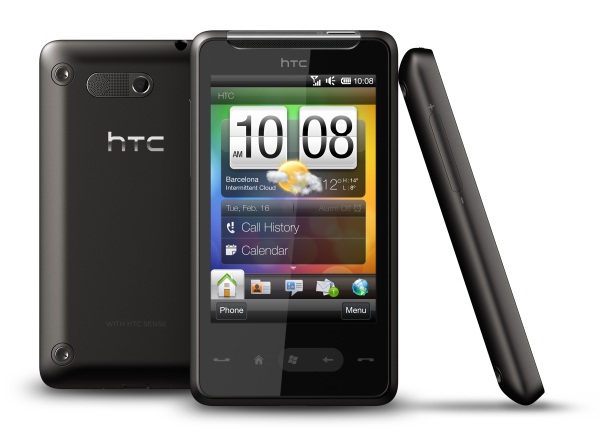 [click here to check out the 9 megapixel high-resolution of the above image]
The visual theme for the HD Mini is "Hidden Power". Lin described this as "Nothing is cool for the sake of being cool". Everything that looks cool about this phone is also functional. Here's what I was told about the HD Mini in the conference call.
First, it's going to be running Windows Mobile 6.5.3 - no word on whether it will be upgradeable to Windows Phone 7; my question to that effect wasn't answer at publication time. I do notice that it has a back button, so that might bode well. Everything about the HD Mini is similar to the HD2, only smaller. It was described as being roughly the same size as the original HTC Touch. The size of the HD Mini is 103.8mm tall, 57.7 mm wide, and 11.7mm thin. It weighs in at 3.88 ounces. For comparison's sake, the HD2 is 120.5mm tall, 67mm wide, and 11mm thin.
Note that I said "similar" and not "identical" - it has a 3.2 inch HVGA screen (480 x 320) that is capacitive rather than resistive. Given that Windows Mobile 6.5.3 includes support for capacitive screens, I assume the HD Mini is using the Windows Mobile software rather than the software HTC had to develop for the HD2. I love the HD2, but it has some odd quirks related to the screen - a few weeks ago I took my phone out in cold weather and, I kid you not, the on-screen phone buttons started pressing themselves in a manic fashion. It was bizarre. But I digress...
The HD Mini isn't a Snapdragon-in-a-half-shell (anyone get that reference?): it's using the Qualcomm CPU running at 600mhz. Lin said that because of the lowered screen resolution, they didn't need to use the Snapdragon chipset in order to have a snappy device. We'll see! The HD Mini uses a different body construction than previous HTC phones - apparently you can see four screws on the back of the device (Zune HD anyone?), and these four screens hold the entire phone assembly together. The circuit boards inside the phone are apparently bright yellow - not something the average consumer will see, so more like an Easter Egg for hardware hackers.
Other hardware features include capacitive buttons - which I presume means no hardware buttons on the front at all. I like my hardware buttons, so I'll be interested to see how well these buttons work. And speaking of buttons, HTC re-designed the 6.5.3 softkeys - apparently they agree with me about how bad they look. You can see how they look in the image above - they look better than the default Microsoft buttons in my opinion. 3Other than the 6.5.3 bits, the software is identical to the HD2 - Lin said that HTC Sense has no extra tabs or features that the HD2 doesn't have. This surprises me a bit, since I've seen videos of leaked ROMs that show new tabs in HTC Sense.
There's a 5 megapixel camera with auto-focus, but no flash. The usual wireless technologies are present: 802.11b/g WiFi, Bluetooth 2.1 with EDR, and GPS/AGPS. The battery is 1200 mAH, and there's a microSDHC slot for expansion. It will have 384 MB of RAM, and 512 MB of Flash storage. It also has a 3.5mm headphone jack - nicely done HTC!
Here's something it doesn't have: Friendstream. This is a social networking software solution that HTC created, apparently only for Android. It combines Facebook, Flickr, and Twitter all rolled into one. Lin described it as being a person-centric way of seeing what your friends are up to, rather than being a service-centric solution. We think of the people we want to check in on, we don't think of the services. It sounds pretty slick, but sadly there's no Windows Mobile version of it yet.
So where and when can you buy this phone? In typical HTC fashion, this phone is being released in Europe and Asian markets first, and will lack the required North American 3G bands. It should be released in April 2010, but there's no word on pricing.
Jason Dunn owns and operates Thoughts Media Inc., a company dedicated to creating the best in online communities. He enjoys photography, mobile devices, blogging, digital media content creation/editing, and pretty much all technology. He lives in Calgary, Alberta, Canada with his lovely wife, and his sometimes obedient dog. He thanks HTC for making the HD2 - it re-invigorated his love of Windows Mobile.

Do you enjoy using new hardware, software and accessories, then sharing your experience with others? Then join us on the Thoughts Media Review Team! We're looking for individuals who find it fun to test new gear and give their honest opinions about the experience. It's a volunteer role with some great perks. Interested? Then click here for more information.

---