Wednesday, August 5, 2009
Posted by Don Tolson in "Pocket PC Hardware" @ 07:00 AM
Radios
The HTC Touch Diamond 2 comes fully loaded with quad band GPRS/Edge, dual band HSPDA/WCDMA, BT, WiFi, GPS and regular FM radio. Typically, there are compromises required when you have this many receivers/transmitters in a single package and each manufacturer has to balance quality with battery life. HTC seems to have done a pretty good job with the Touch Diamond 2. All the radios worked flawlessly for me.
GPRS (Cellular)
The cellular radio was easily able to connect into my GSM provider, Rogers, here in Canada. Radio sensitivity and lock (the 'bars' at the top) were equivalent to all of the other phones I have in the house. Unfortunately, this was a UK model, so I wasn't able to get 3G or H working on Rogers (wrong frequency). The audio volume is OK, but not spectacular. Able to hear clearly indoors and out, although there wasn't a lot of headroom for outdoor listening. There were no dropped calls at any time, even at fringe areas out in the country.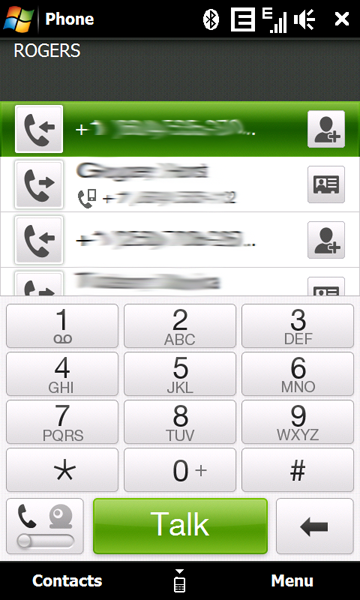 Figure 24: Here's a screenshot of HTC's dialer for the Touch Diamond 2. This is much easier to use than the one that comes standard with Windows Mobile 6.1. At the top of the screen are the last few entries of the Call History. Touching the icons to the right of each entry goes to their contact cards or allows you to add them to your contacts. The button in the lower left lets you switch between audio and video calling.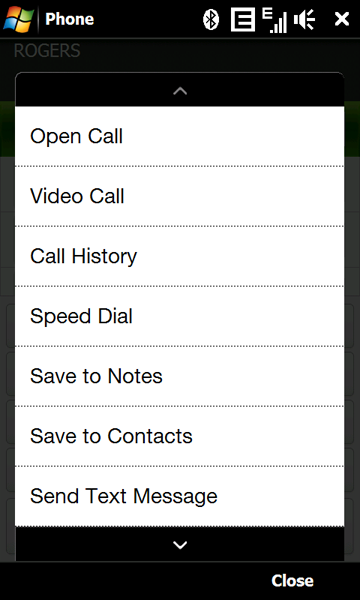 Figure 25: The menu of options available from the dialer screen. Note, the little arrow at the bottom signifies that there are more entries, which can be viewed by pushing up the screen with your finger.
Figure 26: The full Contact History screen. Again, this is scrollable by pushing it up and down with your finger. The thin bar at the right side of the screen shows approximately where you are.
Bluetooth
The Touch Diamond 2 supports BT 2.0 with EDR and A2DP for stereo headphones. I had no problem pairing it with my Helium headset or Motorola stereo headphones. There was a bit of a glitch in trying to get the TD2 paired up with my the Hands Free profile of the Toyota Prius though. I initially tried to connect using HTC's 'Add New Headset' option, but it would go away for a while, then come back and say it couldn't connect. My guess is that the headset setup assumes the normal '0000' PIN code. Since this isn't the PIN we have established in the Prius, I was surprised to not get a prompt for the PIN, and hence, no connection to the Prius. When I went to the WinMo BT interface and 'Add[ed] a New Device'. I was prompted for a PIN and everything proceeded very smoothly. It paired up quickly and worked perfectly.
Volume on the headset and stereo headphones was good, but a little low for outdoor/street use. Callers stated that I sounded 'far away' when using the Helium headset, which I've never heard using it on any other of my phones.
BT range was typical for most other phones.
I couldn't get AVRCP (remote control of media players, etc.) working from my stereo headphones, but it wasn't marked as supported anyway.
WiFi
802.11 b/g support is provided with WPA2/PSK security. It was easily able to connect up to my b/g/n router which provided very good throughput for web browsing, video and audio streaming. Range wasn't anything special -- about on par for most PDAs I've tested. I wish the manufacturers would include better WiFi receivers in these units. My laptops get much better signals/connections throughout my house than any of the phones!
GPS
The GPS receiver on the TD2 is phenomenal! It's way better than anything I've seen on a stock HTC unit, and better than the ones I've tested on the Pharos units which are specifically tuned for navigation and location support. Time to First Fix (TTFF) was an amazing 10 to 15 seconds, even inside a building. I was even able to get a fix standing at the central core of a steel-frame office building -- well away from windows, etc.
OCN/iGo8 installed quickly and found the GPS receiver right away. The application didn't fill the full screen, since it was built for 640x480, but that wasn't a big deal. Once it had a fix, it was rock solid stable with no drifting or lag as I navigated around town with the unit sitting in the centre console between the two front seats.
About the only oddity was that the firmware seems to be attempting to lock when only 3 satellites are providing data. That's possible (using some assumptions in the spherical geometry) but it doesn't provide an accurate or stable position fix. Fortunately, the receiver quickly acquires additional satellites and gets itself properly locked in.
FM
The FM radio application provided by HTC is exactly the same as the one that came with the Touch Pro. It has about the same sensitivity as the Touch Pro one as well. The reception was not really usable inside an office building.
---