Thursday, June 4, 2009
Posted by Darius Wey in "Pocket PC Hardware" @ 06:01 AM
"Pharos Science & Applications, Inc., a leading provider of location-based information and services, today announced the immediate availability of the Traveler 137, a striking Windows phone that is the first to give users access to 3G data speeds on both the T-Mobile and AT&T Wireless networks. The Traveler 137 features hybrid navigation software, giving it the unique ability to provide voice-prompted navigation even without a connection to a carrier's network. The Traveler 137 is sold unlocked, enabling users to use local GSM SIM cards worldwide and avoid international roaming charges. The Traveler 137 is available today from Amazon.com, Dell.com, eXpansys.com, and Newegg.com for the suggested retail price of $599.95. Users can obtain a $250 discount on the phone if signing up for a new T-Mobile two-year contract through Pharos."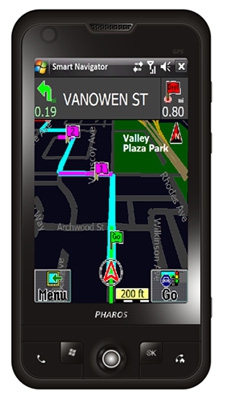 The Pharos Traveler 137, which was unveiled back in January, is now available from major retailers for $599.95. If you're interested in saving a little and don't mind waiting a day, our affiliate hardware store should have some in stock tomorrow at the discounted price of $559.99.
The specs? A Qualcomm MSM 7201A 528 MHz processor, 256MB RAM, 512MB ROM, quad-band GSM/EDGE and tri-band (1700/1900/2100 MHz) UMTS/HSUPA/HSDPA connectivity, a stunning 3.5", 480 x 800 touch screen, 802.11b/g Wi-Fi, Bluetooth 2.1 + EDR, an FM tuner, aGPS, dual-cameras (3.0-megapixel on the rear, 0.3-megapixel on the front), a microSDHC slot, USB 2.0, a stereo audio jack, and a 1380 mAh Li-Ion battery. It ships with Windows Mobile 6.1 Professional, though we have confirmation from Pharos that it will be upgradeable to Windows Mobile 6.5.
---