Tuesday, January 6, 2009
Posted by Darius Wey in "Pocket PC Hardware" @ 07:00 AM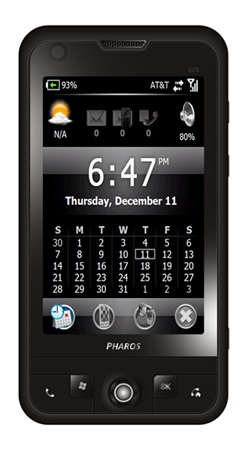 Pharos is at CES showing off its latest device, the Traveler 137, and there's enough in it to make the Touch HD quiver with fear. For starters, there's a Qualcomm MSM7201A processor running at 528MHz, 256MB RAM and 512MB ROM. There's also a crisp 3.5" touch screen with a resolution of 480 x 800, a 3.0-megapixel camera, a microSDHC slot, Wi-Fi, Bluetooth, aGPS, an FM radio, and support for quad-band GSM/EDGE and tri-band UMTS/HSDPA/HSUPA (1700/1900/2100MHz). The Traveler 137 hits stores this quarter at an MSRP of $599.95. Jump the break for the press release.
TORRANCE, Calif. - January 6, 2009 - On the cusp of the Consumer Electronics Show (CES), Pharos Science & Applications, Inc., a leading provider of location-based information and services, introduced the Traveler 137, an unlocked Windows Mobile phone distinguished by its slender profile, cool applications, and bright, 3.5 inch touch screen. The Consumer Electronics Association lauded the arrival of the Traveler 137 with its prestigious Innovations award and has displayed the stylish handset in the CES Innovations Design and Engineering Showcase. True to Pharos' roots in the navigation space, the Traveler 137 provides full-featured navigation with voice prompts on a pay-as-you-go basis that spares users an ongoing monthly fee. In an industry brimming with mobile devices, the Traveler 137 stands apart by offering users tremendous value on a powerful, sleek handset that runs on the GSM network of their choice. The Traveler 137 will be available late in the first quarter of 2009 from major retailers for a suggested price of $599.95.
"Windows Mobile opens up a world of choice and personalization for our partners and customers. The Traveler 137 from Pharos is a great example of how partners can build on the Windows Mobile platform and create unique phones based on their expertise," said Stephanie Ferguson, general manager, Mobile Communications Business, Microsoft. "Pharos has long been a leader in providing navigation solutions for Windows Mobile, and we're delighted to see this expertise in action with the Traveler 137."
"Most navigation solutions for smartphones only work when within a carrier coverage zone," said James Oyang, PhD, President, Pharos. "We've equipped the Traveler 137 with our hybrid navigation system that follows you wherever you want to go and charges you only when you actually use it."
The Traveler 137
Weighing just 4.9 ounces and encased in a sleek, stylish black case, the Traveler 137 combines everything users expect in a multimedia handset with the complete suite of productivity applications in Windows Mobile. The 3.5 inch touch screen display dominates the device, rendering web pages and images in 65 thousand colors and 480 x 800 pixels. E-mail, web browsing and multimedia are a snap thanks to 3.5G connectivity with download speeds up to 7.2 megabits per second (Mbps). A three megapixel camera records picture and video while a second camera on the front of the handset enables users to participate in video conferences. The Traveler 137 comes preloaded with a touch screen keyboard, SPB Mobile Shell with touch-and-sweep user interface, and Microsoft Office Mobile suite, Media Player, and Live Search, a service that provides free information about traffic, gas prices, movie times and weather.
Smart Navigator, Pay-As-You-Go GPS Navigation
The Traveler 137 features Pharos' Smart Navigator software, a unique hybrid navigation system that earned a CES Innovations award for outstanding design and engineering. As a hybrid navigation system, Smart Navigator works both on-board and off-board the device. Thus, even when the Traveler 137 is out of a carrier coverage zone, the user has the ability to display maps, create routes and navigate door-to-door. Initially, maps of the United States will be provided free of charge. Pay-as-you-go maps are available for Canada, Western Europe and Eastern Europe on a daily, weekly, monthly or yearly basis. The service will soon be extended to include maps of China, Russia, Mexico, Argentina, Brazil and elsewhere.
Traveler 137 Specifications
Operating System: Microsoft Windows Mobile 6.1 Professional
Hardware partner: Pharos works closely with Inventec
Processor: Qualcomm MSM 7201A 528MHz
Memory: 256MB DDR SDRAM, 512MB Flash ROM
Phone: unlocked GSM quad band 850/900/1800/1900 MHz, EDGE / GPRS, Tri-band 3G, 1700/1900/2100 MHz, UMTS 384Kb/s, HSDPA 7.2Mb/s, HSUPA 2Mb/s
Talk time: up to 4 hours talk time and 200 hours standby time
Display: 3.5" TFT LCD with touch panel, 480 x 800 Wide-VGA with 65,000 colors
Wireless: GPS aGPS compatible, Wi-Fi 802.11 b/g, BluetoothTM v2.1 + EDR , FM tuner
Camera: 3 megapixel for picture or video, .3 megapixel on the front for video conference
Expansion: USB 2.0, micro SD slot support SDHC, stereo audio jack
Battery: 1380 mAh Li-Ion, rechargeable/replaceableSize: 4.60in (L) x 2.40in (W) x 0.51in (H)
Weight: 4.9 ounces
---