Monday, June 16, 2008
Posted by Darius Wey in "Pocket PC Hardware" @ 09:32 AM
"If you asked the general public what the #1 Windows Mobile device they're waiting for, you'd probably lose count of how many times people said XPERIA. Sony Ericcson [sic], for the first time, has entered into the Windows Mobile market, and our first impressions? Wow. You really couldn't throw better specs on this thing if you tried. From your local flavor of UMTS/HSDPA, to an optical joystick (fire!), to a whopping 800×480 VGA screen, and even cool funky notification lights, this thing is packed! Let's not forget the physical design of the device as it's one of the coolest and hippest-looking phones we've seen in a very long time. Since our unit isn't a production version, the software runs a little slow. Even so, in most tasks, it performs very well. We can't wait to play with a final production unit. It has us that impressed! One major flaw, though… Do you really want to know? The keyboard!"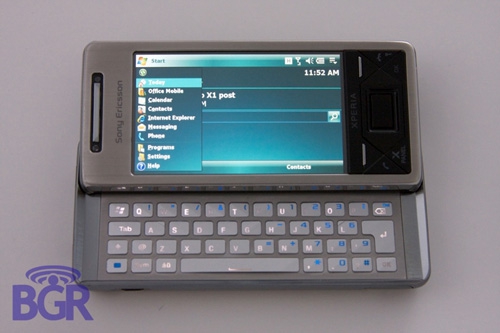 It's been an age since Sony Ericsson announced the XPERIA X1. And yes, believe it or not, it is actually coming, although not for a few more months. So, while you wait, head on over to
BGR
for some eye-candy posted by the Boy Genius himself. 800 x 480 sure is tasty.
---