Monday, May 12, 2008
Posted by Darius Wey in "Pocket PC Software" @ 05:00 AM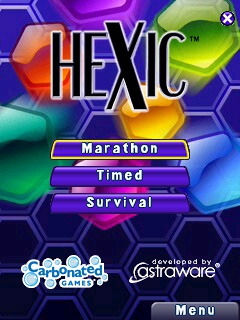 Product Category:
Games
Manufacturer:
Astraware
Where to Buy:
MobiHand
[Affiliate]
Price:
$9.95
System Requirements:
Windows Mobile Classic/Professional (Pocket PC) or Standard (Smartphone) device
Pros:
Addictive;
Multiple game modes;
Looks and feels just like the MSN Games and Xbox 360 versions.
Cons:
Lacks online leaderboards.
Summary:
Alexey Pajitnov knows how to turn any shape into an addictive puzzle game. Tetris, which needs no introduction, is a testament to that. So too is Hexic, which MSN Games and Xbox 360 gamers should be familiar with. For years, I searched high and low for a Windows Mobile version, but to no avail. Now, that search is over. Thanks to the combined efforts of Astraware and Carbonated Games, Hexic is available for all flavours of Windows Mobile, and it does not disappoint.

Read on for the full review!

Bejeweled, Meet Hexic. Hexic, Meet Bejewled.
If you've never played Hexic, but have played Bejeweled, then Hexic's gameplay should be second nature. In Bejeweled, you slide and match three or more coloured jewels into rows or columns, which then disappear, prompting more to tumble down from the top of the screen. In Hexic, it's similar, except you're not just limited to a bidirectional playing field. Each hexagon is able to interact with all six surrounding hexagons. By rotating them in clusters of three, you can create clusters of matching colours, which then disappear, prompting more to tumble down from the top of the screen. Only this time, all that tumbling down has the capacity to set off advantageous or cataclysmic chain reactions, and that uncertainty contributes to the excitement that this puzzle game offers.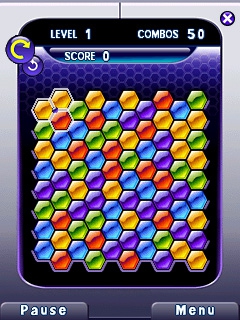 Figure 1: The playing board. Let's get started!
Beyond the Humble Hexagon
Hexic doesn't just stop at clusters of matching colours, though. As you progress through the levels of the game, you are introduced to special pieces. Level 2 introduces bonus star pieces, which when included in clusters, add extra points and occasionally clear portions of the playing board. Level 3 introduces bombs that can work to your advantage or disadvantage. If you fail to defuse bombs in time by letting their timer count down to zero, it's game over; but if you include a bomb and a bonus star piece in a cluster of matching colours, you clear all same-coloured hexagons from the playing board. This is a boon in Levels 4 and beyond, which introduce new colours that make clusters potentially more difficult to form.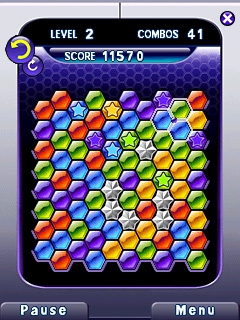 Figure 2: A little starflower power.
---