Thursday, July 21, 2011
Posted by Don Tolson in "Dell Windows Phones" @ 08:00 AM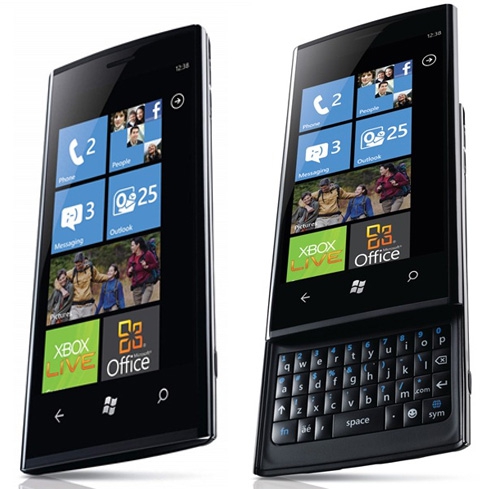 Product Category: Windows Phone 7 Smartphone
Manufacturer: Dell
Where to Buy: Amazon [affiliate]
Price: $499 USD for T-Mobile with no contract
System Requirements: Windows Phone 7. You'll need a Windows Live or Hotmail account to take full advantage of the social media and marketplace.
Specifications: 1Ghz CPU, 8Gb internal storage; 4.1 WVGA (480 x 800) AMOLED screen; Quad band (850/900/1800/1900) GPRS; Tri band UTMS (900/1700/2100), GPS, 5mp colour camera w/autofocus + LED flash, 720p HD video recording; BT 2.1 EDR, 802.11b/g; 3.5mm stereo audio jack; microUSB 2.0; digital compass and G-Sensor; 120mm (4.8in) x 62mm (2.5in) x 13mm (0.5in); 190g (6.8 oz). Full specs are available at the Dell Site.
Pros:
Large, bright screen with portrait sliding keyboard (no need to rotate the unit);
Solidly built.
Cons:
Screen pixels seem to have 'space' between them, creating a pixelated look to some images;
Weight distribution is affected by sliding out the keyboard -- makes one-handed operation difficult;
Bluetooth seems to have difficulty re-establishing connections.
Summary: While the Dell Venue Pro has been out and about for a number of months now, we don't hear much about it in the press or in advertisements. There was a lot of initial buzz about the new look of Dell's first venture into Windows Phone 7 and the 'portrait' slider keyboard. But here in Canada, it's been very difficult to get a hold of one, since none of the major cellular suppliers (Rogers, Bell or Telus) support it on their networks. But never fear, we here at Windows Phone Thoughts don't let a little thing like network support stop us! We managed to snag one to play with for a week or so thought you might be interested in what we found. Read on....
Introduction
When Dell first announced they were returning to the cell phone market with the Venue Pro, there was a lot of anticipation regarding the form factor -- a large screen unit with a portrait slider keyboard! Reviews and opinions quickly started showing up in the forums, with many people raving about the keyboard. I have to admit that I have a particular fondness for a more 'square' design in my gadgets rather than rounded edges, so the overall 'look' of the Venue Pro appealed to me. I'm also finding I really need a keyboard to manage input of emails and messages (I'm not really good at the soft keyboards yet), so having a vertically sliding keyboard was a bonus.
I found an 8gig unit on eBay for a reasonable price (about half of what they retail for), so I decided to give it a try. Unfortunately, it was also one originally for T-Mobile in the U.S. so I knew I'd be stuck with Edge/2G data and voice connections. (T-Mobile uses different frequency bands for high-speed connections than those used by Rogers/Bell/Telus here in Canada.)
What Comes in the Package
When the package arrived, I was pleasantly surprised to find that it seemed almost brand new in the box. For the price, I was expecting a 'slightly' used one that someone didn't want any more and, upon closer inspection, I found it even had a screen protector applied! (More on this later.)
The 'goodies' that come with the Venue Pro and now pretty standard fare.
Figure 1: Here's what comes in the package.
At the left is the Venue Pro itself, followed at the top right with the MicroUSB to USB charging/sync cable. In the centre is the wall charger which has a USB jack at the back, and in the plastic bag at the bottom is the stereo earbuds with microphone. You can just see to the left of the bar code one of a set of contour-fitted covers which form fit to various ears to make the buds fit better. Nice touch.
---