Wednesday, May 7, 2008
Posted by Rocco Augusto in "Smartphone Software" @ 11:48 AM
"Looks like Yahoo Go development is continuing apace with the release of Yahoo Go 3 (Beta). You can grab a download here, but a perusal of the compatible devices list seems to indicate that it's only compatible with Windows Mobile Standard for now. New features include: An integrated at-a-glance Yahoo screen, improved Yahoo oneSearch, prettier design and navigation, full-on widget support, with in-app widgets like MySpace and eBay"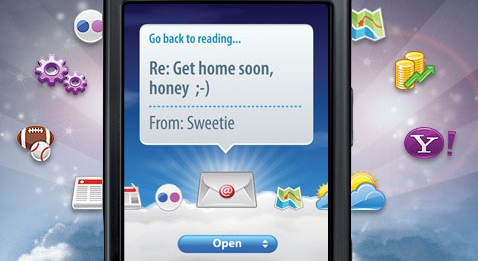 [Photo courtesy of WMExperts]
Be forewarned before using this application. After I installed it and fired it up to start playing with it, I was informed that that this pretty hefty 2.5MB program that just installed itself to my device needed to connect to the internet to finish installation. I could not tell by the wording that was used if it was just to configure the service to your Yahoo! username or to download additional files. Either way if you are not on an unlimited data plan please pay attention to your data usage so you are not surprised by a large bill next month! From what I can see there is a fair amount of communication with the 'Cloud'. My initial impression is that this is a pretty slick application. The application dock on the main screen is beautifully designed and easy to navigate. Animations did seem a little jerky though. I will play around with this application for a few days before passing final judgment on it, but so far I like what I see!
---