Thursday, April 17, 2008
Posted by Darius Wey in "Pocket PC Articles" @ 07:00 PM
"The E-TEN Glofiish X650 is a very strong Windows Mobile 6 Professional phone that has everything except 3G. The VGA display, strong WiFi and Bluetooth 2.0, fast CPU and full SiRF III GPS are impressive and compete well with HTC devices. The X650 is particularly attractive if you don't need a keyboard and the bulk it adds. Strangely, the X650's biggest competitor is E-TEN's own X800, which does everything the X650 does and adds 3G. Given the $75 to $100 price difference between the two, we'd pick the X800 for its better display and 3G. But if you're on a tight budget, the X650 gets you most of the X800 for a bit less money."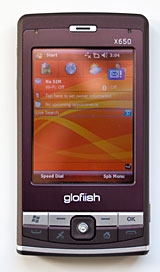 I don't entirely agree with MTR's X650 vs. X800 assessment. $100 isn't pocket change, and I do believe the X650 comes out on top in some areas - namely, build quality and its region-dependent FM transmitter. But they do nail some key points about the X650, so
check out the review
to see what makes this device tick.
---