Tuesday, September 9, 2008
Posted by Darius Wey in "Pocket PC Hardware" @ 03:00 AM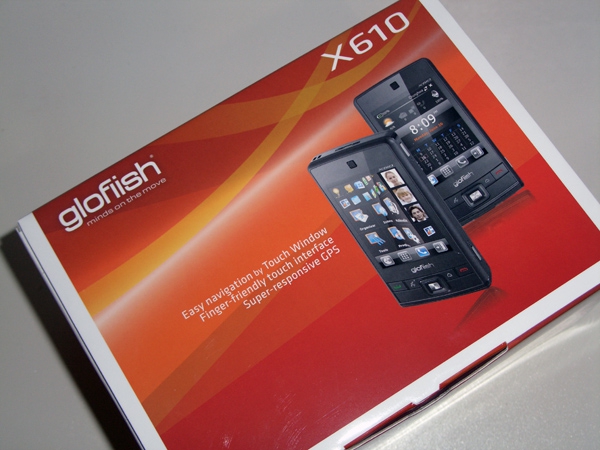 It's a busy period for the folks at E-TEN... uh, Acer; they're introducing one Glofiish after another. A few weeks ago, I showed you the V900. Today, I'm unboxing the X610. Before your inner geek cries tears of joy, do know that this is an entry-level device, so if you were hoping for gadgetry that would make even the feature-rich V900 bite the dust, you won't find it here.
Specs-wise, the X610 is much like its predecessors, the X500 and X600: Samsung S3C2442 400MHz CPU, 64MB RAM, 128MB ROM, quad-band GSM/EDGE, Wi-Fi, Bluetooth, GPS, an FM tuner, a 2.8" QVGA (240 x 320) touch screen, a 2.0-megapixel fixed-focus camera with flash, and a microSD slot. There are improvements, of course. First, the microSD slot is SDHC-capable, so if you have any 4GB or 8GB cards lying around, the X610 will love 'em. Second, take a look at the design. The touch screen isn't recessed, which makes all that finger-tapping and sliding a whole lot easier. And, to take advantage of that very point, the X610 includes Spb Mobile Shell, along with Windows Mobile 6.1 Professional. The X610 may be an entry-level device, but it still offers plenty of bang for buck. Definitely worth considering if you're on a tight budget.
Jump the break for more pictures. Also, like the V900 thread, this is an open Q&A; so if you have any questions, ask away and I'll do my best to answer.
---