Thursday, April 24, 2008
Posted by Darius Wey in "Pocket PC Events" @ 04:30 PM
"Resco (www.resco.net), the leading developer of end-user mobile applications, announced today the start of its "Best Skin Contest" for their popular software input panel application — Resco Keyboard Pro. Starting today for the period of one month, users will be able to add their own skins and thus participate in the contest. Everyone who submits their own, original skin automatically gets a free license of Resco Keyboard PRO. People will be able to download, try out and since May 23, 2008 vote for the skin they like the most. The winners will be announced in mid June."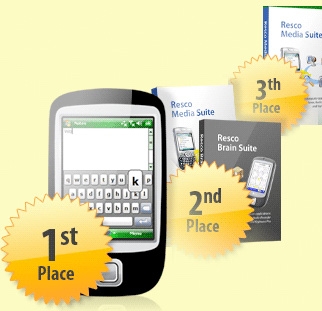 Okay, skinning community: here's your chance to win big. Resco is running a
Resco Keyboard Pro
skinning contest, and sitting at the top of the prize pool is an HTC Touch, which would be perfect for showing off that winning skin. Think you have what it takes? Then
get those entries in
by May 23. Good luck!
---