Friday, February 12, 2010
Posted by Doug Raeburn in "Samsung Windows Phones" @ 07:30 AM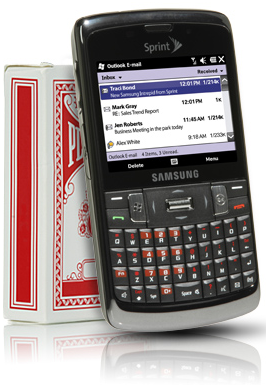 Product Category: PDA Phone
Where to Buy: Sprint
Price: $449.99 USD; $149.99 with a new or upgrade 2 year contract
Pros:
Great keyboard;
Design provides a good balance of features for business and pleasure;
Auto focus feature on camera.
Cons:
Windows Mobile 6.5 provides limited touch friendly control;
Stylus is very hard to remove;
Slow auto focus.
Summary: Windows Mobile 6.5 has hit the marketplace in a big way and phones featuring it are widely available from all of the major US providers. Among its offerings, Sprint features the Samsung Intrepid, a Windows Mobile phone in the classic BlackBerry-style form factor. The Intrepid distinguishes itself in that it's based on Windows Mobile 6.5 Professional, which adds a touch screen featured on only a small handful of devices of this style currently available from US carriers and not offered on BlackBerrys. So let's see if the combination of touchscreen and QWERTY keyboard puts the Intrepid at or near the top of the "must have" list. Read more...
---