Wednesday, December 1, 2010
Posted by Adan Galvan in "Windows Phone News" @ 09:00 AM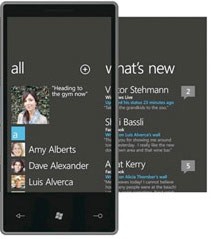 For those of you patiently waiting for Windows Phone 7 updates, you may be glad to hear that the first one could be substantial. Developer Tom Hounsell has recently been tweeting some information that has directly indicated that the first Windows Phone 7 update will allow Microsoft to "do what took Apple three years". Microsoft has already publicly stated that copy and paste will come sometime in early 2011, but Tom seems to hint at some other much requested functionality such as multi-tasking. Microsoft responded with the following official statement:
"Microsoft is committed to delivering regular updates to the Windows Phone experience. Our first update will make copy & paste available in early 2011. In addition to this first update, all Windows Phone 7 users should expect to see additional updates delivered in the future as part of Microsoft's ongoing update process."
Stay tuned for more information and leave your most wished items in the the comments below!
---