Wednesday, November 12, 2008
Posted by Don Tolson in "Pocket PC Software" @ 09:00 AM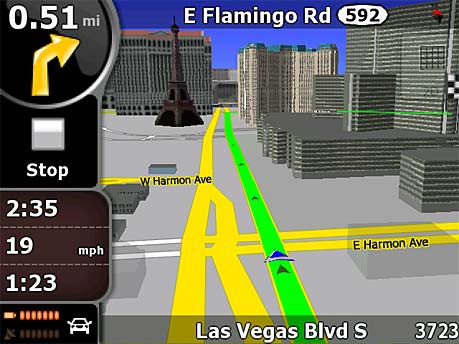 Product Category: Road Navigation software
Manufacturer: NavNGo
Where to Buy: Easy PocketNav Inc.
Price: $75.00 USD on 2G microSD card with adapters; 4G and 8G versions also available
System Requirements: WM5.0 or 6.0, 400Mhz processor, 64M memory (128M recommended)
Specifications: Approx 1.2Gb of map and POI data; over 12.3 million POIs; maps include Canada, US, Hawaii, Alaska and Puerto Rico; Supports all VGA and QVGA screen resolutions; 30 language support with over 50 profiles.
Pros:
Seamless maps for door-to-door interstate/province mapping for USA and Canada;

Smart Zoom feature is very useful, especially on longer trips;
Quick route calculation & rerouting, with selection between alternative routes, depending upon your preferences.

Cons:
Product activation/licence is hardware tied to the specific card;
No notification of processing/translating Outlook Contacts at initial startup;
Some icons on the navigation screen are too small to be visable/usable.


Summary:
When looking for navigation software for the Windows Mobile platform, there is certainly no shortage of options. TomTom, Garmin, iGuidance, CoPilot, Ostia, Google Maps (if you are lucky enough to have an unlimited data plan) are among the better known alternatives here in North America. In Europe and Asia, the options become almost mind boggling. On Course Navigator is the North American package for iGo, one of the most popular personal navigation systems in Europe. We took a look at OCN6 about a year ago, and now Pocket EasyNav, the North American distributor has just released OCN8. The screenshots and brochures show a lot of 3D rendering of buildings and terrain but how does this affect performance? Let's take it out for a spin...
---