Tuesday, December 16, 2008
Posted by Darius Wey in "Pocket PC News" @ 03:40 AM
"Spb Software, a leading mobile software developer announces the results of fifth annual Spb Survey. This year, Spb Survey was held between 10th and 24th of November, and aimed to track changes in mobile device preferences and brand loyalty, smartphone and software use cases, user profiles and behavior. Originally, Spb Survey addressed only the Windows Mobile audience, but this year, users of all mobile platforms were invited to participate. The majority of Spb Survey respondents are mobile activists with clear interest in mobile technology, and are not fully representative of the entire global mobile community. However, as mobile connectivity enters more spheres of everyday life - the global mobile community is becoming more active and technologically-savvy throughout, and accurate industrial outlooks and estimations can be made, based on the answers provided by Spb Survey respondents."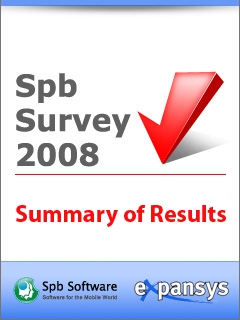 Spb Software House has released the results of this year's Spb Survey. Some interesting (though not necessarily surprising) points:
49% of all survey participants currently use HTC devices, followed by 6% who use HP devices, 5.5% who use ASUS devices, and 4% who use E-TEN (now Acer) devices;
The TyTN II is the most popular device, with the Diamond and Touch Pro claiming second and third place respectively; and
80% of survey participants backup their data, which is consistent with what was reported in previous years.
Click for the complete set of results.
---