Wednesday, March 19, 2008
Posted by Rocco Augusto in "Smartphone Software" @ 11:57 AM
"If you're a Windows Mobile user, browse to mobile.google.com on your device to download the plug-in and start searching faster than ever. Once you do, we think you'll find it so much faster and easier that you'll start conducting more mobile web searches than you ever had before. How do we know this? Well, when we look at the combined usage numbers for BlackBerry and Symbian versions of this plug-in, we see that users are able to get Google search results up to 40 percent faster. And, BlackBerry and Symbian users with the plug-in installed search 20 percent more than those without it."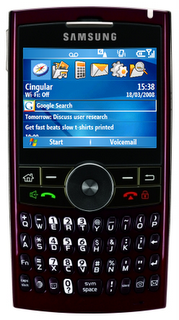 It pleases me to see that more and more companies are showing our Windows Mobile handsets some love as of late. First we get MSN Direct, then Google Gears and now a dedicated Google Search homescreen/today screen plugin. Installing this application couldn't be easier. Just point your mobile browser to
mobile.google.com
and select the "
Search (Download)
" link to start a download of the plugin. After it is installed the program should send up a message to inform you of whether or not the plugin can work with your existing homescreen. If you are using an incompatible theme, Google Search will offer to automatically switch your theme to one that does work. Like I said, this plugin couldn't be simpler to use. Hats off to Google!
---