Monday, April 14, 2008
Posted by Darius Wey in "Pocket PC Hardware" @ 04:45 AM
"E-TEN Information Systems has announced the Glofiish M810 and M750, the first in a new series of Pocket PC Phones that put the focus on portable entertainment, dynamic social networking, and go-anywhere communications ideal for the web 2.0 generation. E-TEN's newest Pocket PC Phones harness the latest mobile hardware technologies together with innovations in software to create a pair of sleekly portable, multi-connected devices, designed to help the new breed of bloggers, podcasters, video makers, and chatters, stay online and updated wherever they are."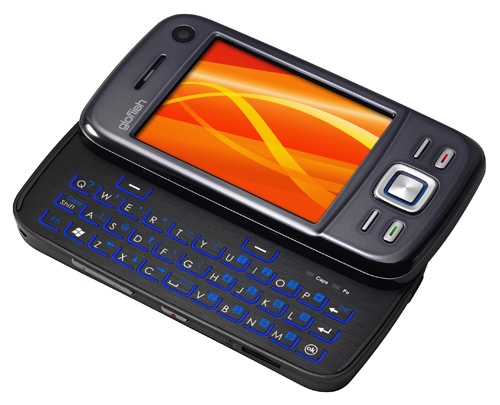 E-TEN has just announced two new Glofiish devices, the M750 and M810. Inside, there's a Samsung S3C2442 500MHz processor, 64MB RAM, 256MB ROM, quad-band GSM/GPRS/EDGE connectivity, 802.11b/g Wi-Fi, Bluetooth 2.0 + EDR, GPS (SiRFstar III), a 2.0-megapixel camera with auto-focus, a slide-out QWERTY keyboard, a microSD slot, and a 2.8" QVGA touch screen, all powered by Windows Mobile 6 Professional. The M810 has the added bonus of tri-band UMTS/HSDPA connectivity. Specs-wise, there isn't much here that sets it apart from previous Glofiish devices, but the design has certainly been kicked up a few notches.
Jump the break for a press release and another picture.
Update:
Both have started shipping and should be available in 2-3 weeks.
Read more...
---