Monday, November 15, 2010
Posted by Brad Wasson in "Windows Phone Talk" @ 06:30 PM
"One evening in the week I was talking to a colleague and he was asking which machine I preferred using between the iPhone 4, the Desire and the HD7. At the moment I'm of course using the HD7, but even using that I tend to lose some of my usual functionality. I therefore decided to put together a basic spreadsheet concerning my uses and clock up which device gets the best score. The scoring is generally a '0' for a missing feature, a '1' for a feature that it has, but for some areas where there is a greater difference than a plain yes or no then a score has been allocated."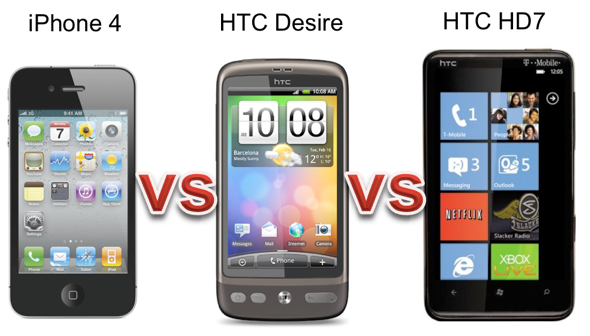 Well, it's of course quite subjective, but Daron Brewood, CEO of Smartphone Gurus, has developed a matrix that compares three current smartphones: the iPhone 4, the HTC Desire, and the HTC HD7. What makes this a quite an interesting read is that he compares the devices on a variety of different application usage and/or functionality scenarios. For example, he includes the following in his comparison:
multiple Exchange accounts
RSS Reader
spoken term GPS navigation
eBook reader
Facebook
Twitter
notification system
quick camera operation
speed dials
and many more...
Again, these are his opinions, but it gets right at the hear of the user's total experience (see the article on TXI in an earlier post). A little suspense - you'll need to click over to the article to find his conclusion.
---