Tuesday, April 1, 2008
Posted by Rocco Augusto in "Smartphone News" @ 12:00 PM
"The latest Windows Mobile upgrade brings minor, but very welcome additions to the platform. In this article, we'll cover both the Standard (non-touchscreen) and Professional (touchscreen) editions and show you what's to love about the Windows Mobile 6.1 update. Now, you'll notice this is not a full version upgrade, but just a ".1" upgrade so you know you can't expect a full overhaul. It really feels like just a quick update intended to fill in a couple of gaps between the Windows Mobile and Apple iPhone functionality. You'll notice some similarities between the Standard and Professional operating systems (such as the Internet Explorer and Text Messaging updates), but you'll also notice some odd differences. Read on for our thorough rundown of the next version of Windows Mobile to hit your phone!"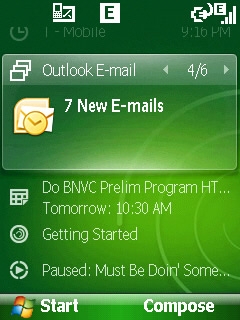 [Windows Mobile 6.1 in the flesh! From left to right - Standard and Professional]
Pocketnow.com has brought us a quick review of Windows Mobile 6.1. This review contains a ton of screenshots and two videos of WM 6.1 in action on both the Standard and Professional handsets! All in all, I'm really excited to get my hands on either a device that is equipped with this new update or a Windows Mobile 6.1 ROM image for my Emulator. Oh man, good times! You guys have no idea how relieved I am that this didn't turn out to be a huge April fool's joke from Microsoft!
You can see the videos (I promise it isn't another Rick Roll) for the Standard platform
here
and the Professional platform
here
. Enjoy!
---