Thursday, February 24, 2011
Posted by Nelson Ocampo in "Windows Phone Developer" @ 04:00 PM
According to a tweet from Rafael Rivera (a member of the ChevronWP7 team), Microsoft is now allowing developers to submit up to 100 free applications instead of the previous limit of 5.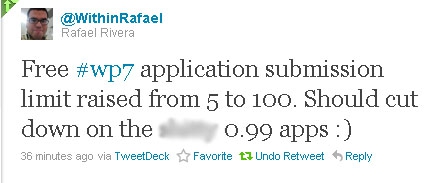 While Rafael states that the ChevronWP7 can't take all the credit, he does point out that the team did make this a major point of discussion during their talks with Microsoft.
What does this mean for us users? While according to Rafael it means we'll have fewer sh***y apps. It also means that developers are free to structure their business to use advertising income as their main source of revenue, by creating multiple free ad supported apps.
What do you think of this? Talk about it in the discussion forums!
---