Tuesday, June 28, 2011
Posted by Nelson Ocampo in "Windows Phone Software" @ 12:00 AM
"Today, StubHub's official free app launched. For those unfamiliar, StubHub is a website where you can buy and sell tickets for just about anything (sports, concerts and theater) at a reasonable price. It's like legalized scalping without the huge markup in price."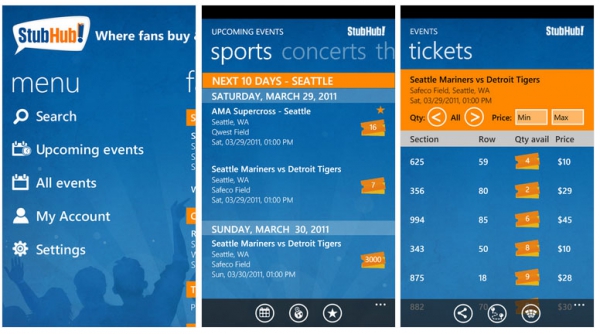 Ticket brokers have definitely changed the way the public has accessed concerts, sporting events, and other events that sell tickets. And when it comes to ticket brokers, Stub Hub is one of the big players.
I'm just itching to use this app to help me buy some Lakers tickets next season. Well, if there is a season this year. But that's another subject entirely...
Grab the app in the Zune Marketplace.
---