Monday, December 15, 2008
Posted by Paul Martin in "Pocket PC Software" @ 12:30 AM
"PocketGrandmaster 4.0 released! PocketGrandmaster 4.0 runs on devices with VGA, QVGA, WVGA and square-screens. New: PocketGrandmaster 4.0 comes with a built-in FICS- and ICS-client, so you can play people from all over the world on two of the most popular chess servers.
Most important improvements:
* Full support for WVGA (HTC Touch HD) and square screen devices.
* Play online on the Free Internet Chess Server (FICS) and the server of the Internet Chess Club (ICS).
* Play against players from all over the world (works well even without registration on FICS).
* Support for cut & paste in most windows, you could for example cut & paste a movelist to an email."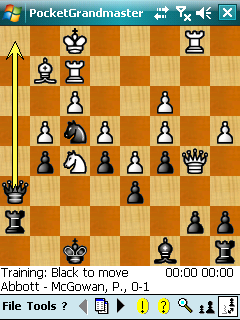 Chess players should check out the new PocketGrandmaster 4.0. As you can see, the program has continued to receive major upgrades, including the ability to play chess using the FICS and ICS chess servers to play opponents around the world. If you purchased PocketGrandmaster 3.x after 18th December 2005, you are entitled to a free upgrade. Those who purchased version 3.x before then are still entitled to a 50% discount.
---