Thursday, July 13, 2006
Posted by Sponsor in "SPONSORED ARTICLES" @ 12:00 PM
Introduction
ClickPayGo is an account system is integrated with a state-of-the-art wallet payment mechanism that takes the headache out of mobile shopping, not to mention great freebies available for all types of devices, including Windows Mobile and Smartphone.

The system has been live since August 2005, and is constantly refined and upgraded based on the valuable feedback of our customers. Now, at last, we are ready to tell the world about what this great system is all about... read on and find out what it can do for you...

Why ClickPayGo?
Take 1 minute today to open a ClickPayGo account
Save time and money! Top-up your account and get 5% extra bonus credit. Your wallet is then ready to use at anytime

With an account, you can also buy via your mobile or phone at
www.clickgamer.com/mobile (for GPRS enabled Smartphones) and wap.clickgamer.com (for J2ME sales). Simply select the ClickPayGo payment option at checkout and you're done!

Spend and earn ClickPayGo for Pocket PC and Smartphone - there are some great freebies available!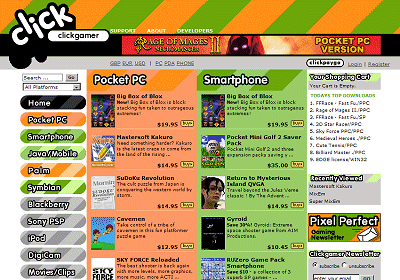 Clickgamer.com - normal website view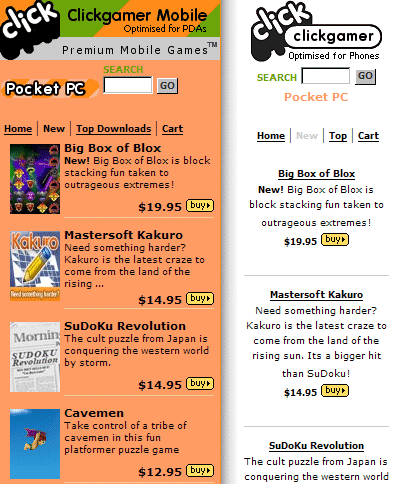 Clickgamer.com 'on-the-go' - MOBILE and LITE sites side-by-side

NEW! Even More Free Downloads...
Open an and grab the full unlimited versions of miXem deluxe and Tommy Kombat - both brand new additions to ClickPayGo. To download the games simply miXem Deluxe for Windows Desktop - a brilliant puzzle game that will keep you entertained for hours. The game that won 3rd place in the Samsung Mobile Game Developer Competition 2005 - now for your Windows PC's! All new Inca style graphics throughout with new music tracks and voice samples.


Tommy for Pocket PC - the full version of this superb platform game with 64 levels and 4 Boss characters! Pick up special weapons, defeat the bad guys and get the girl! This great platform shooter on the Pocket PC is perfect for you to release tension after a hard day. A fantastic soundtrack & colorful graphics - download it now!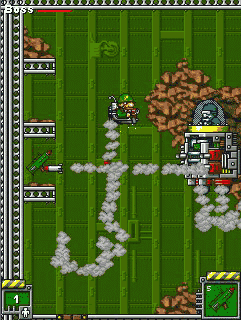 Tommy ClickPayGo now and get 3 USD free credit ! All you have to do is copy and paste the special coupon code e410994c4e when registering for a ClickPayGo games you like!

Thank you once again for taking time to read this mini-article. Please email your thoughts, feedback and suggestions to us at cpgfeedback@clickgamer.com

- - - - - - - - - -
The above article is a paid advertisement for Clickgamer and does not necessarily represent the views of Pocket PC Thoughts.
---