Tuesday, September 30, 2008
Posted by Darius Wey in "Pocket PC Hardware" @ 05:35 AM
"SanDisk Corporation (NASDAQ: SNDK), a global leader in flash memory products, today announced it is bringing to market its 16GB* microSDHC™ and Memory Stick Micro™ (M2™) mobile memory cards - the world's largest removable storage capacity for mobile phones. Best Buy Mobile (NYSE: BBY) and Verizon Wireless (NYSE: VZ) stores are the first major retail outlets in the United States to carry the 16GB capacity. The fingernail-sized 16GB memory cards allow consumers to "wake up" the many storage-intensive features offered by today's portable handsets such as music and video playback, high-definition digital camera functions, gaming and GPS applications. In addition to the mobile phone, consumers can use the 16GB microSDHC card in a multitude of other devices, including video cameras, GPS receivers or MP3 players with a microSD™ slots such as SanDisk's Sansa® players."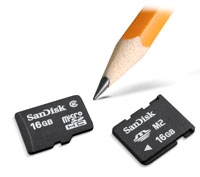 Like the sound of a 16GB microSDHC in your Omnia, Touch Pro, Touch Diamo... oh wait, no slot in that one.
Cruel jokes aside, this is certainly a welcome addition to the microSDHC family. If you're in the US, it'll be available at Best Buy Mobile stores in October and Verizon Wireless stores in November at an MSRP of $99.99. Anyone plan on purchasing one?
---