Tuesday, August 10, 2010
Posted by Brad Wasson in "Windows Phone Talk" @ 06:00 PM
"Microsoft's Windows Phone 7 was missing a critical feature -- web video -- when we previewed it late last month, but it appears the platform may have at least a YouTube solution before all is said and done. A former Microsoft program manager with access to the Windows Phone 7 Marketplace tweeted the above picture earlier this week, which shows that there are at least placeholders for a variety of games and productivity tools as well as Yelp and YouTube -- the latter of which is listed as a "Music Hub Add-On.""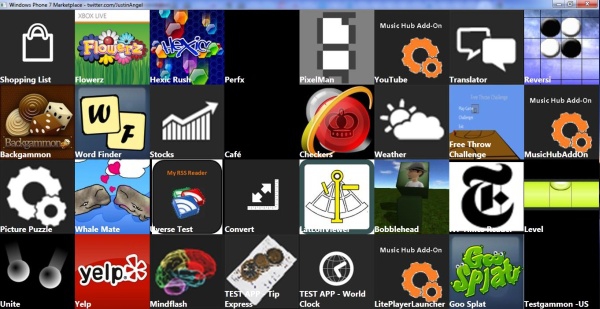 Sean Hollister over at Engadget posted the above image, which was tweeted from a former Microsoft Program Manager, which hints at some of what we might expect to find in the Windows Phone 7 Marketplace. There has been a lot of speculation on the topic of apps for Windows Phone 7. There is just so much we don't know yet. How many apps will we find on day 1? Will there be apps with unique functionality for the new platform, or mostly duplicates from other platforms? How will developers exploit the hub capability? What will the Marketplace experience be like?
Taking a step back, what are your favorite 2-3 smartphone apps that you would love to see (or can't live without) on the Windows Phone 7 platform?
---