Wednesday, March 3, 2010
Posted by Eriq Cook in "Zune Software" @ 09:00 PM
"At last, the Facebook application for the Zune HD has been released. It has elements of the Metro interface that Microsoft is utilizing on Windows Phone 7 Series devices, and so looking at the this rendition of Facebook, we can get a sense for how other apps would look on WP7"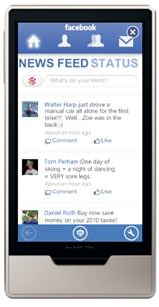 Microsoft recently released a new Facebook app for the Zune HD that makes use of a few Metro UI elements that will be standard in Windows Phone 7. Other notable features include the ability to update your FB status with the current song you're playing with a link to the song's info page on Zune.net.
Although no Facebook features appear to have been limited, there have been a few bugs reported concerning connection difficulties and the News Feeds not appearing, but Microsoft is working on fixes as we speak.
The new Facebook app is available on the Zune Marketplace (accessible directly through the Zune HD). Have you had a chance to use the new Facebook app on the Zune HD? If so, tell us what you think...
---