Monday, January 11, 2010
Posted by Don Tolson in "Windows Phone Software" @ 07:30 AM
Product Category: Imaging Software
Where to Buy: Mobihand [affiliate]
Price: $14.95USD. A fully-functioning 30-day trial version is available.
System Requirements: WM5 or above; Works with touch or non-touchscreen phones; resolutions from 240x240 to 800x480. Requires phone/pda to have built-in camera and have approximately 5Mb of free RAM to run.
Specifications: Uses approximately 1.5Mb of memory.
Pros:
Simple to use, very finger friendly;
Can produce single or multipage PDFs;
Works in colour or b&w (best results are in b&w, depending upon light levels).
Cons:
Output is dependent upon the quality of the photo images -- there is no image enhancement capability built into the application;
Only produces an image-imbedded PDF -- no OCR to translate content into text.
Summary: This is my kind of application. It does one simple thing, it does it well, and it's simple and easy to use. Wizcode's Photocopy Mobile turns your phone into a mobile photocopier/fax/scanner with the ability to convert an image taken with the camera into an emailable PDF document. Now, you can easily share those wonderful whiteboard ideas with the rest of the workshop, or send in that latest signed contract to head office, right from your phone!
Introduction
Ever been in a meeting where someone (maybe you?) is developing a great idea on the whiteboard and then you come to the end of the meeting and.... someone has to transcribe it down before the concept is lost. It's no fun for the designated 'secretary'. My solution has been to use my phone's camera to capture the board, then download it to my PC, clean it up, then ship it out to the meeting participants. The problem is, it's a multi-step process; the output is a JPEG and emails/MSWord get a little hairy dealing with pictures (especially two or three in a row); and there's no easy way to ensure the receiver gets them in the right order. Wizcode's Photocopy Mobile provides an easy, all-in-one solution, by combining the camera, PDF converter and email interface into one small application.
Installation
Over the years, installation of Windows Mobile applications has become pretty routine. Wizcode PhotoCopy Mobile provides either a .CAB file which you copy to the device and install yourself, or the ActiveSync/Mobile Device Center .EXE file which you download to your PC and run from there.
Wizcode also provides two versions of the software -- one for a touchscreen phone (previously called the 'Pro' version), and another for non-touchscreen phones (aka Smartphones). Both are available from Mobihand.
Once you complete the installation, the software runs from the Programs menu. On the first run, Wizcode PhotoCopy will display the End-User Licensing Agreement (EULA) and then present a screen to input the registration code (if you have one). If you are running a trial version, subsequent runs of the software will present this registration screen with a countdown of the number of days left in the trial.
Past the registration screens, you are presented with Wizcode PhotoCopy's main screen.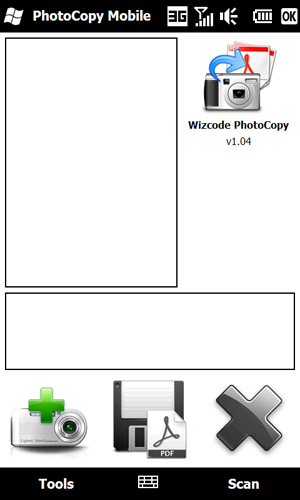 Figure 1: Here is the main screen of Wizcode PhotoCopy. Definitely not a complicated interface. The top and middle areas provide previews of the current and associated images in the document. The icons along the bottom are (from left to right): scan a page; create PDF; and remove image.
---