Sunday, December 27, 2009
Posted by Darius Wey in "Windows Phone Software" @ 05:00 AM
"Today, SBSH Mobile Software updated its best selling newsreader application GoNews to version 1.3, adding support for Windows Mobile Smartphones (non touch screen devices) for the first time! GoNews 1.3 is the first version to support both Windows Mobile Touch and Non-Touch screen devices! Furthermore, GoNews 1.3 brings great download speed improvements, design improvements and some great new features for both Windows Mobile Touch and Non-Touch users. We invite all our users to update to the latest and greatest GoNews version!"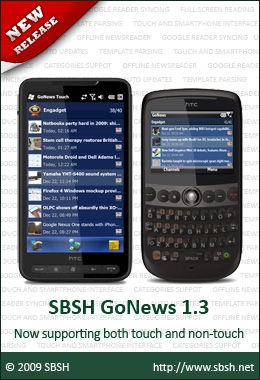 You didn't think we'd stop at just PhoneWeaver, did you? Yes, thanks to SBSH, we're hosting another holiday season giveaway! This time, we have five copies of GoNews 1.3 up for grabs, and this latest version packs a punch. It offers faster updates, touch and non-touch optimizations, and of course, long-awaited support for Windows Mobile Standard (that's Smartphone in the old tongue). So what do you have to do to win? Read on and get commenting. Good luck!
Leave a comment in this thread, stating your favourite news source. Perhaps it's CNN, BBC, The NY Times, The Australian, or even yours truly - Windows Phone Thoughts.
Only one comment per person. Any more and your entry will be deemed invalid. Note that if you're registering and leaving a comment for the first time, your post probably won't appear right away as it needs to be approved by our friendly moderators.
The giveaway is open to anyone and everyone, regardless of where you are in the world.
Entries will be accepted until 11:59 PM GMT on January 10, 2010.
A total of five winners will be selected randomly and notified via e-mail, so please ensure that a valid e-mail address is linked to your Thoughts Media account. Each winner will receive a single licensed copy of GoNews 1.3.
---