Wednesday, December 16, 2009
Posted by Ron Hostetter in "Windows Phone Software" @ 07:00 AM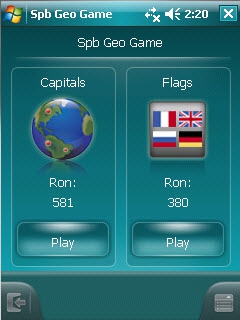 Product Category: Game
Manufacturer: Spb Software
Where to Buy: MobiHand [affiliate]
Current Version: 1.0.1
Supported Platforms: Windows Mobile 5 (Phone Edition and PocketPC Edition); Windows Mobile 6 (Classic, Professional); Windows Mobile 6.1 (Classic Professional); Android
Specifications: Download Size: 4.6MB; Size on Device: 3.7MB
Price: $4.95 USD
Pros:
Inexpensive way to pass the time and learn something;
Pleasing graphics represent flags and globe nicely;
Finger-friendly interface.
Cons:
Doesn't show how many points I'm earning on each question;
Could use more features such as facts about the capitals or countries.
Summary: Spb Software has just released its Geo Game for Pocket PC. The goal of the game is to give players a fun way to learn about capitals and flags from around the globe. The game is simple to use and pleasing to the eye, but offers little more than multiple choice game play.
Flags or Capitals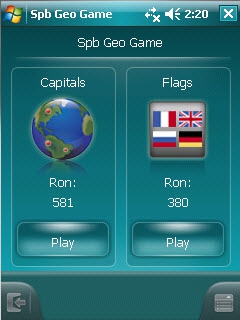 Figure 1: Spb Geo gives players the option of matching capitals or flags from its main menu.
Geo Game has two modes: Capitals and Flags. It's very simple to use and the interface is finger-friendly. This is a must for me since I'm typically too lazy to pull out my stylus unless I absolutely have to. Clicking on the "Play" button under Capitals takes me to the first of a series of multiple-choice questions about the capitals of various (some rather obscure) countries around the world.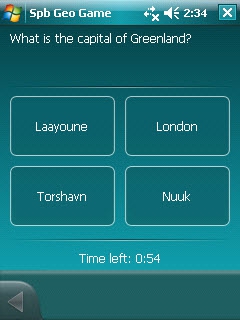 Figure 2: When playing the Capitals game, you are asked to guess the capital of a given country. The clock below ticks down your time to guess.
A clock at the bottom of the screen ticks down as I contemplate my answer. It took me a few plays to finally realize that the object of the game is to answer as many questions as I can in 60 seconds. Choosing the wrong answer simply greys out that answer and awaits another choice.
Once I select the correct answer, the game shows me an animation of a spinning globe pointing out the location of the capital along with the country's flag.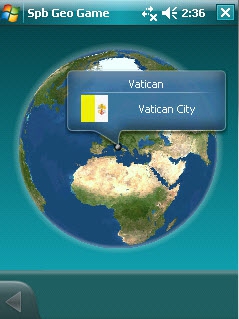 Figure 3: When you provide the correct answer, Spb Geo Game shows you the location of the capital on the globe, and shows you the country's flag.
It would be nice if Geo Game showed me a running total of my points along with some indication of how many points I'm losing for picking the wrong answer. I assume I would score more points for picking the correct answer the first time, and I would get fewer points for each incorrect answer I choose. As it is, I'm not sure how much I'm being penalized for guessing incorrectly.
Once my 60 seconds runs out, the game will either return to the main menu screen, or congratulate me for earning a high score.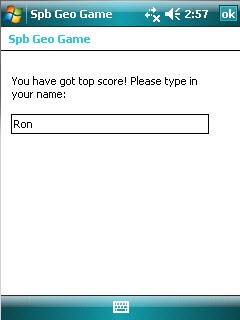 Figure 4: Congratulations! High scores are recorded with the player's name.
Playing the flag variation is very similar. Simply select the correct flag and answer as many questions as you can in 60 seconds.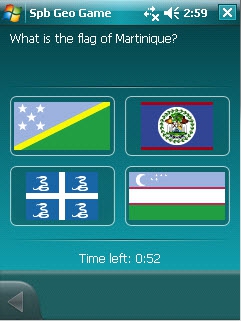 Figure 5: Players are asked to select the correct flag for a given country.
Geo Game keeps separate high scores for the two variations of the game.
The settings menu is very simple. It gives you an "About" screen, a registration screen, and lets you set two settings in the game: turn animations on or off, and language. If the globe's spin seems choppy, turning off Animation helps a great deal.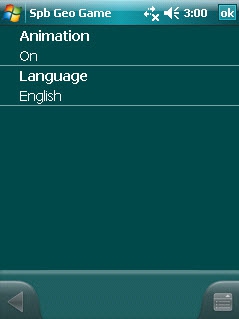 Figure 6: Spb Geo Game offers only minimal options.
Conclusion
I could see how Geo Game could become addicting, but I could also see how the purpose of the game would be defeated. Obviously the idea of the game is to learn a little about geography, capitals and flags. But since points are earned by answering as many questions as possible in 60 seconds, I found myself randomly selecting answers as quickly as I could and ignoring the globe showing me where the country is located. By taking that approach, I was able to put up some big scores, but I didn't learn anything.
Seeing all of those capitals and countries that I've never heard of made me feel like those contestants on "Are You Smarter than a Fifth-Grader?" You know - the game show where the kids answer all the seemingly simple questions that we adults forget once we reach middle school. This might be an issue for those with low self-esteem.
Overall, the game is simple and fun to play. My only request would be for Spb to put some more educational features into the game. For instance, it would be nice if the game could give some basic information (population, elevation, etc.) about the countries. It would also be fun have a freestyle form of the game where I can randomly point at spots on the globe and get information about the country I picked.
But, for an inexpensive way to pass time while waiting to board a plane to Riyadh, Saudi Arabia, Geo Game fits the bill nicely.
Ron Hostetter is a software sales engineer by day, a gadget lover by night. He has worked in the IT field for over 20 years and loves reading about and playing with technology. He lives in Kansas City, Missouri with his lovely wife, his son and daughter, and their two dogs. He enjoys playing guitar and watching the Kansas City Royals, both of which he finds very frustrating.

Do you enjoy using new hardware, software and accessories, then sharing your experience with others? Then join us on the Thoughts Media Review Team! We're looking for individuals who find it fun to test new gear and give their honest opinions about the experience. It's a volunteer role with some great perks. Interested? Then click here for more information.

---