Monday, May 25, 2009
Posted by Darius Wey in "Pocket PC Events" @ 10:30 PM
Giveaway time! Thanks to PocketX Software, we have five copies of the newly-released Business PRO (each valued at $29.95 USD) for you to snag. The application offers advanced phone profiles, a profile picker, advanced call filtering, an SMS answering machine, group e-mail and SMS messaging, support for unique ringtones and message tones, and photo caller ID.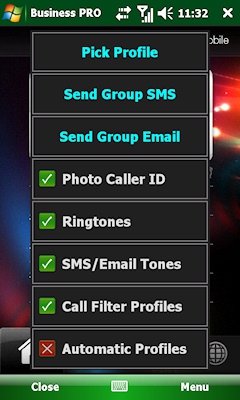 So, what do you have to do to win? Read on and get commenting. Good luck!
Leave a comment in this thread, stating the number of contacts in your address book. 10, 20, 500, 1000? More? Let us know. It's that simple.
Only one comment per person. Any more and your entry will be deemed invalid. Note that if you're registering and leaving a comment for the first time, your post probably won't appear right away as it needs to be approved by our friendly moderators.
The giveaway is open to anyone and everyone, regardless of where you are in the world.
Entries will be accepted until 11:59 PM GMT on June 3, 2009.
A total of five winners will be selected randomly and notified via e-mail, so please ensure that a valid e-mail address is linked to your Thoughts Media account. Each winner will receive a single licensed copy of Business PRO.
---