Tuesday, January 6, 2009
Posted by Darius Wey in "Pocket PC Hardware" @ 07:15 AM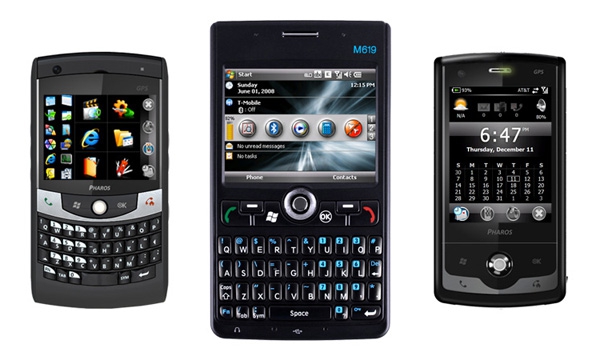 If the Traveler 137 is a little too much for your needs, then you may be interested in the Traveler 117, 127 and 619. Starting today, major North American retailers will sell the three at $529.95 for the 117 or 127, or just $199.95 for the 619. More information after the break.
TORRANCE, Calif. - January 6, 2009 - Pharos Science & Applications, Inc., a leading provider of location-based information and services, today announced the availability of three new smartphones for the North American market. The Traveler 117, Traveler 127 and Traveler 619 provide precise Global Positioning System (GPS) navigation on an unlocked Windows Mobile handset, empowering users with a capable smartphone that can operate on the Global System for Mobile communications (GSM) network of their choice. Taken together, the three phones expand customers' choices in the growing unlocked handset market and cater to individual hardware preferences, whether for touch screen, standard QWERTY keyboard or a large key QWERTY keyboard. The Traveler 117, Traveler 127 and Traveler 619 are available today from major retailers.
"While there is widespread agreement on the features our customers want in a phone, we've noticed they have more personal preferences when it comes to hardware," said James Oyang, PhD, President, Pharos. "The Traveler 117, Traveler 127 and Traveler 619 give our customers an uncompromising smartphone in the style of handset he or she likes best."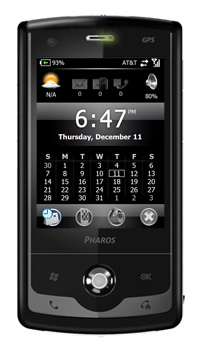 The Traveler 117
With 3.5G connectivity and a roomy, 2.8 inch touch screen VGA display, the Traveler 117 is a powerful smartphone that is ideal for making calls, surfing the web or navigating. With the touch of a finger, users can access work or personal e-mail or find the latest gasoline prices, movie show times, weather conditions or news headlines through Microsoft Live Search. The Traveler 117 comes preloaded with Pharos' Smart Navigator software, a pay-as-you-go navigation solution that recently won the Consumer Electronics Association's prestigious Innovations award. The Traveler 117 is now available for the suggested retail price of $529.95.
Traveler 127
Sporting a QWERTY keyboard for rapid text entry and a 2.5 inch touch screen, the Traveler 127 is designed to meet the heavy messaging requirements of the mobile professional. Able to download content at speeds of up to 7.2 Mbps, the Traveler 127 takes advantage of the fastest broadband speeds available to deliver an unrivaled mobile office experience. Users can access work e-mail and the complete suite of productivity applications in Microsoft Windows Mobile 6.1 Professional Edition. The Traveler 127 includes Pharos' award-winning Smart Navigator software that provides voice-prompted, turn-by-turn directions, ensuring that users reach their destination safely and efficiently. The Traveler 127 is now available for the suggested retail price of $529.95.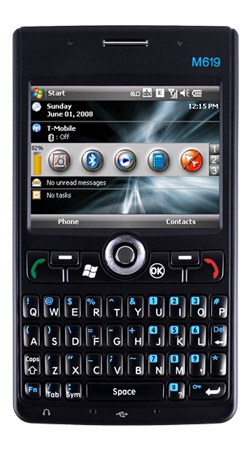 The Traveler 619
The Traveler 619 is an unlocked Windows Mobile handset that features a spacious QWERTY keyboard with large keys designed for easier input. For mobile field workers and those who simply prefer working with keys that are easier to see and manipulate, the Traveler 619 provides a powerful smartphone with location-based services of real-time traffic, maps, driving directions, GPS guidance, gas price, weather, and movie information, and the ability to connect to enterprise applications. The Traveler 619 is now available for the sharply competitive price of $199.95.
---