Wednesday, November 12, 2008
Posted by Don Tolson in "Pocket PC Software" @ 09:00 AM
POIs
Points of Interest are either the bane of your existence or absolutely essential, depending upon how you use your navigation system. Basically, they are stores, services and other things of interest that are pre-loaded and located into the navigation maps. Not sure where the nearest bank machine or coffee shop is? Just look it up and you'll get a list of your favorites, in order of proximity to your current location! At least that's the way they sell it.
With many systems boasting installation of millions of POIs, its easy to see how they could become overwhelming if not managed efficiently. And what about those 'special' POIs which you want to maintain, like Grandma's house? Or a favourite little trysting spot? How do those getting added and managed amongst the millions of others?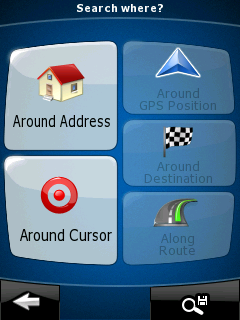 Figure 24: Options for looking for a Point of Interest. You can look around a given address, your current location, anywhere on the map you point, around your destination, or along the current route, if you have one defined.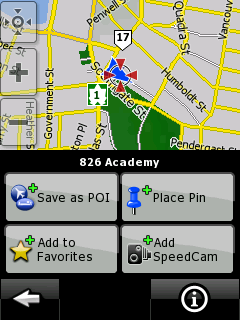 Figure 25: Tapping on a point on the map gives you the option to set it as a Favorite, a POI, the location of a SpeedCam, or just add a Pin for later reference.
When you save your own POIs, you can add them to existing categories or assign them to your own named categories, to make them easier to find.
Easy PocketNav's website claims that OCN8 on the 2Gb card contains over 284,000 POIs which sounds pretty low when compared to others claiming numbers in the millions. (Edit -- Easy PocketNav has now updated this to 12.3 million POIs -- 11.2 million in the US and 1.1 milliion in Canada) The POIs provided for my small neck of the woods are as complete as any I've seen with any nav system. It certainly contains some of what I would consider some of the more obscure ones -- like bible and scout camps, local mom&pop hardware and bicycle shops, and even some businesses which are being run out of people's homes.
One of the biggest complaints from OCN6 was that a feature to translate your contact information into personal POIs didn't work all that well. In almost 90% of the cases, because the address or street name wasn't formatted correctly, nothing would get created. I'm happy to report that with OCN8, the algorithm has been greatly improved and even the error handling is better. Now, over 70% of my 200+ contacts got translated to POIs and of those that didn't work, OCN8 presented a screen of options for each contact from which I could select the appropriate one. In most cases, it was due to house numbers not being provided or not exactly as recorded in the map data. Unfortunately, this error-correction process seems to be a one-shot feature, since there doesn't seem to be any way to come back to this list later or have OCN8 re-check your contacts.
Documentation
Both a Quick Start Guide and a full User Manual come with OCN8, and are also available on the OnCourse Navigator website, if you'd like to take a look through the product before you buy. The Quick Start Guide describes the basics of installation and getting going with the product, while the User Manual provides a full description of all the features available. I found the User Manual to be quite well written and very readable, providing 'how to' instructions for the features of navigation and route management, then focussing on describing the icons and features of each screen. Both manuals provide lots of screenshots to show how things will look.

Conclusion
It's always difficult to take an application which is working well and try to make it better. But NavNGo and Easy PocketNav have done a excellent job in bringing OCN to the next level -- improving both the functionality and usability of the product. While I wasn't able to take advantage of the 'wow' features built into this latest version (3D graphics, TMC and TTS), the layout and accessibility of the new system certainly make it a very worthwhile upgrade for the cost. It's still my preferred navigation package.
I have to admit that (as you can see from the screenshots) I was quite used to running my nav software in portrait mode, since that's the way I normally hold my PDA, but OCN8's landscape mode is pretty intuitive and is making a convert of me. It means a bit more work figuring out a new mount for the vehicle, but layout and usability are far superior.

Don is an Associate Director with Fujitsu Consulting and the lead of its Enterprise Mobility Practice. It used to be I just needed my PPC to keep up with the kids activities -- now, I need a GPS system as well to keep up with all the different places they need to go!
---