Wednesday, November 12, 2008
Posted by Don Tolson in "Pocket PC Software" @ 09:00 AM
Navigation
Navigation in OCN8 is pretty straightforward, as it was in OCN6. To get going, you simply define your destination via POI, address, intersection, GPS coordinates or a point on the map; select 'Set as Destination' and away you go! OCN automatically calculates a route based on your current position (or your last recorded position).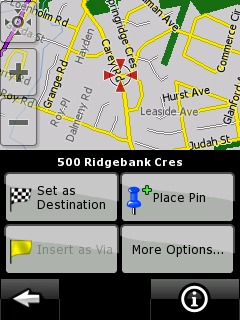 Figure 20: Defining a route. You tap on the map and define what this point is.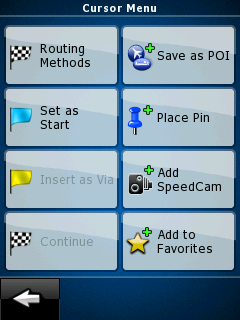 Figure 21: If you want this to be a start point, here's the options screen (available from the screen above) to select that.
What makes this software much more powerful as a route planner is the ability to set not only the destination, but a different starting point, and multiple 'stopover' or via points along the way. OCN allows you to define these multi-point routes in two ways. Starting with an existing route (start point and destination), you can either extend the route by adding a new final destination (so the original one becomes a via point) or by inserting an via point in the route, retaining the original destination.

Figure 22: Here, we've selected another point away from the current route and insert it as a Via. If we set this as the new Destination, then OCN asks if you want to drop the previous Destination or create it as a Via in the new route.
OCN8 comes with new, version 2 voice profiles which have much smoother turn-by-turn event/instruction prompts. Using the Dave profile, I didn't notice obvious places there the prompts were spliced together and altogether the effect is much more natural. There is also a much better array of instructions, such as "take the 2nd exit in the roundabout" and "drive straight through", which come at just the right time to encourage confidence that everything is under control.
The driving portion of turn-by-turn navigation is the same as in OCN6, with events being announced 800m, 300m, 100m and at the intersection. Personally, I find the 300m a bit of overkill, but in some situations it can be helpful. Unfortunately, OCN also reacts very quickly to changes in GPS position/lock. If the GPS signal is a little weak and there isn't a good 'lock' on the satellites, it can get confused as to position and direction, which translates to confusing or conflicting instructions.
As I've said in other reviews and many forum postings, all navigation software is only as good as the maps it comes with. This version of OCN8 comes with fairly recent maps -- updated as of April 2008 -- from TeleAtlas. Overall, they are pretty good and NavNGo is in the process of developing an update website from which you can order and install updates to your maps, POIs, and 3D features. It's just in beta mode right now, so we'll have to see where it goes from here.
The challenge in dealing with errors is discovering if you have a problem with the map or the navigation software's interpretation of it. For me here in sleepy Victoria, there were a couple of instances of map mistakes where a turn was not identified as such, even though there is an intersection with a light. Also, no house #'s were associated with my cul-de-sac, so I can only navigate to the middle of the road leading up to it. It's not a big deal, since TeleAtlas provides a web site where you can report such errors and provides feedback on all reported problems.
The OCN8 application takes quite a bit of processing power, so depending upon the version of your O/S, you may or may not be able to run other applications or even answer incoming phone calls while in Navigation mode, even with OCN minimized. I did have a couple of instances where phone calls simply went away while navigating, but on the whole, things have been very stable.
The Smart Zoom feature is one that I haven't seen on a lot of other nav applications, but I really like it on longer trips. When you are greater than 5km from the next turn, smart zoom flattens out to 2D map mode and zooms out to show progress on a much bigger scale. It gives you a good overview of where you are in the total trip. Then, as you approach the next event (turn, intersection, etc.), it automatically zooms back in to show you the detail of what to do next. Of course, there are configurable parameters as to if this occurs, and when.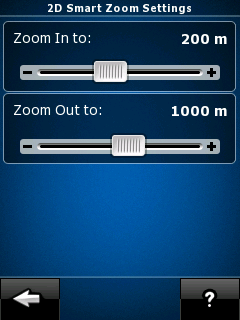 Figure 23: Smart Zoom configuration parameters.
TMC (Traffic Message Channel) support
TMC is an FM-radio based service where information regarding traffic jams, accidents, and other 'events' are transmitted on a regular basis, to allow navigation systems to route you around those problem areas. As with OCN6, support for TMC is included, but unfortunately, I wasn't able to test this out, since my HTC Kaiser/Tilt doesn't have the radio and TMC is only available in Toronto, Ottawa and Montreal in Canada. From the Wikipedia entry it appears there's a pretty good spread of TMC support in the US. but the documentation from Easy PocketNav says that TMC is not supported in US or Canada.
Text to Speech (TTS) support
Text to Speech is a relatively new feature to navigation systems, designed to keep the driver's attention focused on the road by announcing upcoming events including the name of the affected street.
TTS isn't shipped with the standard OCN8 product, since it can only be supported on devices with 128mb of memory or more. To get the TTS version of the product, just contact Easy PocketNav with a request, letting them know which device you have and what type of OCN card you have. What will be sent back is a new set of files to be installed on the card (be sure to back it up first!) and an updated SYS.TXT file for the OCN8 folder on the device. After restarting OCN8, you select the Susan - TTS voice profile and you're all set. (Unfortunately, TTS support is currently only in English and only for the one voice profile.)
After using this for about a week, I found it to be semi-useful. The voice prompts were quite a bit choppier than the Dave 2.1 profile I had been using earlier, and while it didn't have the robotic qualities of text readers of the last generation, there were a number of syllables used in pronunciation of street names which were badly mumbled. (e.g. 'mar' at the end of "Delmar" came out more like a very short 'mer', so the street name sounds like "Delm") It had some difficulties with some of our First-Nations street names such as "Saanich, Esquimalt, and Nanaimo", but who wouldn't? It did just fine with the more English-based "Wilkinson and Hastings", but with a bit of a Cockney tendency to drop the "H" sounds. Not a bad first attempt and quite usable for most of the streets around Victoria, but the choppy flow and clipped syllables can be a bit distracting. I also found that it would frequently correct itself mid-instruction (e.g. start to say "Right..." then change it to "Left Turn").
---