Wednesday, November 12, 2008
Posted by Don Tolson in "Pocket PC Software" @ 09:00 AM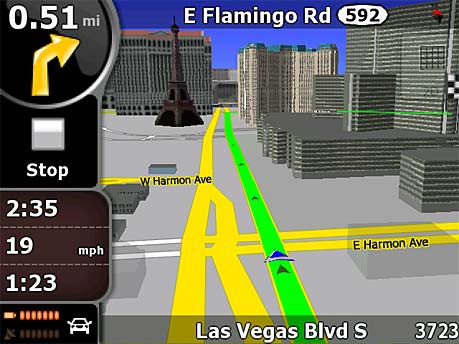 Product Category: Road Navigation software
Manufacturer: NavNGo
Where to Buy: Easy PocketNav Inc.
Price: $75.00 USD on 2G microSD card with adapters; 4G and 8G versions also available
System Requirements: WM5.0 or 6.0, 400Mhz processor, 64M memory (128M recommended)
Specifications: Approx 1.2Gb of map and POI data; over 12.3 million POIs; maps include Canada, US, Hawaii, Alaska and Puerto Rico; Supports all VGA and QVGA screen resolutions; 30 language support with over 50 profiles.
Pros:
Seamless maps for door-to-door interstate/province mapping for USA and Canada;

Smart Zoom feature is very useful, especially on longer trips;
Quick route calculation & rerouting, with selection between alternative routes, depending upon your preferences.

Cons:
Product activation/licence is hardware tied to the specific card;
No notification of processing/translating Outlook Contacts at initial startup;
Some icons on the navigation screen are too small to be visable/usable.


Summary:
When looking for navigation software for the Windows Mobile platform, there is certainly no shortage of options. TomTom, Garmin, iGuidance, CoPilot, Ostia, Google Maps (if you are lucky enough to have an unlimited data plan) are among the better known alternatives here in North America. In Europe and Asia, the options become almost mind boggling. On Course Navigator is the North American package for iGo, one of the most popular personal navigation systems in Europe. We took a look at OCN6 about a year ago, and now Pocket EasyNav, the North American distributor has just released OCN8. The screenshots and brochures show a lot of 3D rendering of buildings and terrain but how does this affect performance? Let's take it out for a spin...
Introduction
Well, it was only a year ago that our own Doug Raeburn posted his very complete review of OnCourse Navigator 6.

At the time, we were pretty impressed by the interface and the range of features supported. About three months ago, NavNGo, the developer, released iGo 8 to the European market and now the North American version OCN8 is available. According to Easy PocketNav, the delay was partly due to Americanizing the software, and wanting to wait for some bug fix patches to be included before release. So, what's new in this version? The big differences are:
completely redesigned interface;
3D map graphics, including buildings and terrain;
simple vs. advanced mode;
POI search around current position, current cursor, along current route;
full screen route display; and

text-to-speech (available separately).
I've had the software for about a month now and have been able to test drive most of these features on a variety of trips. Nothing cross-continent mind you, but a good mix of urban, suburban, and country/remote routes which provide a good feel for the software and the maps included. I've tried a lot of different navigation systems, but I keep coming back to OCN. It's very feature-rich, has an interface design which doesn't require the stylus, and always contains the most accurate and current maps for my area.
Installation
OCN8 comes standard on a 2G microSD card with mini- and standard-SD card adapters included. (4G and 8G versions are also available to give you additional room for other software, music, etc.) The card includes all the maps for Canada, the continental US, Hawaii, Alaska and Puerto Rico. In terms of card content, each geographic area has four map files:
road network;
points of interest (POI);
buildings; and
terrain and elevation.
For the US, there is one set of maps for each of the states while the whole of Canada is covered by one (albeit somewhat larger) single set. The advantage of this configuration over the ones I've seen from other map distributors, is that if you need to clear out some space on the card, you can backup the content of the card to a PC or other hard drive and then delete the files for locations you don't normally travel through. You can always add them back later, and OCN automatically includes them in routing, display, etc.
Installation of OCN8 is identical to OCN6 and couldn't be simpler. Pop the card into the slot and tap 'Yes' to install. That's it -- no licensing or activation codes to request or type in, no maps to download, identify or add. You can even install to multiple devices if you wish. Unfortunately, this simplicity and flexibility comes at a price. As with OCN6, the licensing/activation information is built into the card's hardware, so you have to use the card provided to run the program. If the card gets damaged or unreadable (as happened to me with OCN6) you need to return it to Easy PocketNav for a replacement. I did this, and they provided a new card free of charge. The only cost to me was shipping to California.
By default, after installation of the software, OCN starts up automatically and immediately begins scanning your Outlook Contacts, attempting to create POIs for each of them. (If you don't need your Contacts as POIs, there is a configuration parameter in the startup SYS.TXT file you can set to turn this function off.) Unfortunately, OCN doesn't tell you that's what it's doing. The process is extremely processor intensive and basically brings the system to its knees for between 10 and 40 minutes, depending upon how many contacts you have. Fortunately, this only happens the first time you install OCN on the Pocket PC and my suggestion is to just be patient. Once it has completed its translation, it will display a screen telling you how many it was able to successfully do, and how many it found 'errors' with. Typically, the errors are situations with a missing zip code, or incomplete address, or addresses in two different locations and it will allow you to go through each one and select the appropriate alternative.
Fortunately, the Outlook Contacts locations and OCN preferences seem to be retained as files on the card itself, so when you re-install after an upgrade or install to a new unit, don't need to go through this lengthy setup process again.
New Look and Feel
NavNGo has completely redesigned the look and feel of OCN for this latest version. While the terminology and functionality will be familiar, a great deal of effort has been put into making the screens finger-friendly so there is no need for the driver/navigator to use the stylus at all. The menu structure has been flattened and better organized to make it easier to get to functions and settings.
OCN8 also introduces the concept of Simple and Advanced modes of interaction. The Simple mode provides a very straightforward menu path to the basic functions of a navigation system: Define a destination and follow the fastest route available to get there.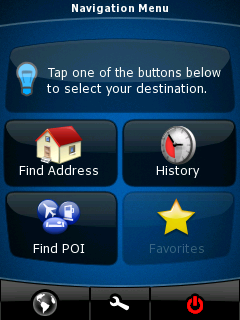 Figure 1: Main menu when in Simple Mode. Note the big buttons and icons to make it easy to access with a finger (or thumb!) touch at a quick glance. The Favorites option is greyed out because I haven't defined any yet!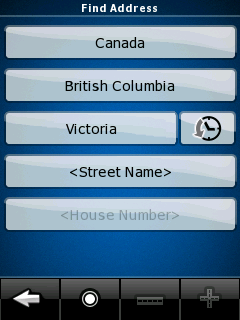 Figure 2: Finding an address. Just provide the street name and house number and away you go. You can also just provide the street name, and OCN will come back with a list of interesecting streets from which you can choose.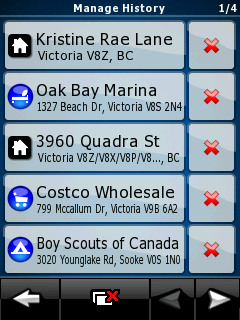 Figure 3: History - You can also select from a list of places you've already visited.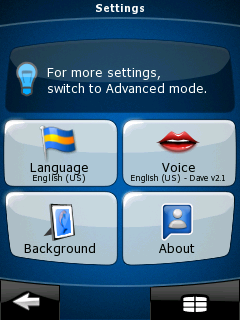 Figure 4: The settings menu in Simple mode shows you the current setting values. If you want to change any one of them, you just press on the button.
---