Wednesday, October 1, 2008
Posted by Jason Dunn in "Digital Home News" @ 09:07 AM
"Apple has threatened to shut down the iTunes music store if an obscure three-person board appointed by the Librarian of Congress increase the royalties paid to publishers and songwriters by six cents per song. The Copyright Royalty Board is scheduled to hand down its decision on these rates Thursday. As part of their general muscle-flexing of late, music publishers asked the board to increase royalties paid to publishers and songwriters from 9 cents to 15 cents per track. Apple -- which has mightily resisted tampering in any way with its 99 cent price point for tracks -- said that if the rate hike goes through and the labels refuse to absorb the entire resulting increase, the iTunes music store will become unprofitable."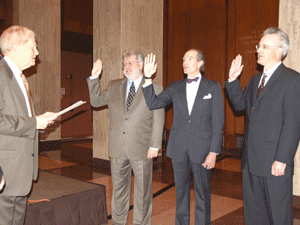 If you put music on your Windows Mobile phone, your MP3 player, or your Zune, and you ever purchase that music from iTunes, this is news you'll want to know about. I'm not personally a big fan of iTunes, but I certainly support their stance in resisting this move. They've sold several billion songs, largely because the 99 cent purchase price of an iTunes song is a reasonable alternative to piracy for most people. If you give people a chance to be honest, they will - iTunes proved that. According to this Wired article, Apple pays artists and labels 65 to 70 cents per song, 9 cents of which the artist or studio is paying to the publishers. It seems to me that if this law were to pass, the increased rates should come from the artist/label end - after all, without the songwriter that created the song in the first place, they'd have nothing in the first place.
It will be interesting to watch how this plays out - the music industry has been undermining Apple and iTunes lately, offering DRM-free MP3s to Amazon while denying them to Apple. Steve Jobs isn't known for compromising (what with that huge ego and all), so this will be interesting to watch. And if this law does pass, what will happen to Amazon's MP3 store? Or Rhapsody's MP3 store? Will we see $1.10 pricing there (you just know they'd round up), or will they too shut down? This could have some dire consequences for online music stores, who all operate at razor-thin profit margins as it is. Could this kill or cripple the entire industry? The music companies would prefer to have us all buying CDs anyway, right?
---