Friday, July 4, 2008
Posted by Don Tolson in "Pocket PC Software" @ 07:00 AM
Using the Keyboards
The biggest change in using these keyboards is in the combination of tap and slide gestures to get the character or effect you want. In all three keyboards, you select a character by tapping a character area and sliding up, down, left or right to select either the specific character you want or an effect like uppercase. There is also an option to top and hold the key to display a list of the available options, then tapping on the desired one.
The predictive engine used here is similar to ones found in many applications with a phone-pad keyboard, where it uses possible combinations of letters tapped to generate a list of probably words desired. The engine is easily able to keep up with rapid key taps and obviously has an extensive dictionary behind it.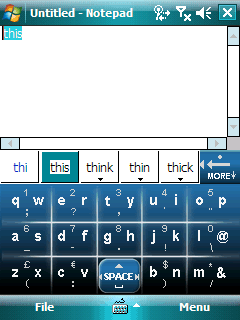 Figure 7: The predictive engine in action. Tapping on a selection in the list inserts it and a space at the current cursor position. If you tap and hold on one of the options listed, you'll get variations of this word to choose from.
From the alphabetic keyboards, you can go to numeric and special character input by tapping on tabs located at the top of the keyboard. There are also tabs for emoticons, options configuration, and viewing an animated help file to show you how to use the gestures on the keyboards. It's also possible to access the numbers and punctuation from the main keyboard by tapping and sliding either down (for punctuation), up (for uppercase), or up, then down (for numerals).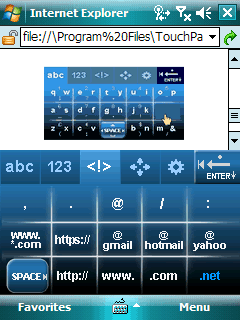 Figure 8: Predefined entries keyboard. In the Professional Edition, you can also add up to 4 additional phrases of your own.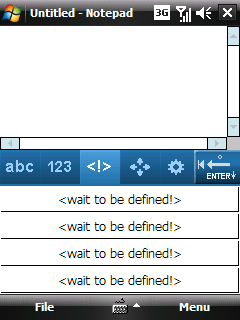 Figure 9: Tapping and dragging down on the Predefined tab brings up the list of user-configurable phrases. To add one, you need to create a copy in the clipboard memory, then tap and hold on the entry.
Figure 10: TouchPal's Options screen, where you can configure how the keyboards and engine work.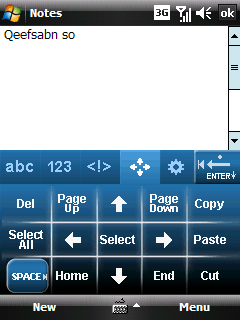 Figure 11: Text selection/movement keyboard. Here, you can perform a number of functions that we associate with the CTL+ functions on a hardware keyboard. Really neat!

Switching between keyboards can be accomplished by sliding from right to left across the keyboard itself (kind of like flipping pages) and you can move through the pages of the symbol keyboard and the help file using the same gesture.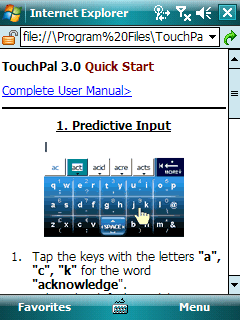 Figure 12: A quick tour through the capabilities of TouchPal provided after installation. Note the link to the complete user manual also included in the install package.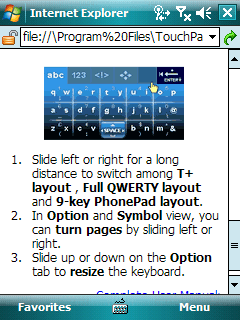 Figure 13: A page from the User Manual
Conclusions
TouchPal has one of the best predictive engines I've seen, and contains plenty of flexibility to add your own words and phrases. But after almost five weeks of on-and-off trials, I found it too much work getting 'around' the engine so I could accurately input the various words and phrases commonly used in my business. It still makes choices for me rather than taking the word I thought I was putting in. I'm still not working smoothly with it and I just can't seem to get into TouchPal's groove. The concept of using a combination of tap and slide to make the keyboards more finger friendly is ingenious. But it does take some getting used to and for me, this was the product's downfall. Maybe I'm too used to touch typing and flipping upper and lower case within my entries, but I can never consistently get the hang of (or remember) all the gestures needed. There were just too many 'slide to the left to do this', 'slide up to put it in this mode' etc. for me to remember in order to get the results I wanted in a smooth fashion. Maybe with younger brain cells, and more practice, I could get it to work, but to be honest, I don't want to spend time 'practising' how to use my PDA. Others have obviously been able to work wonders with it, but I'm afraid it's just not for me.
Don is an Associate Director with Fujitsu Consulting, responsible for the Enterprise Mobility practice. Looks like Canada will finally get the iPhone in July! (Not that I'm really looking for one -- I just want a better data plan!!!)
---