Friday, June 27, 2008
Posted by Darius Wey in "Pocket PC Hardware" @ 04:00 AM
"Feature rich Windows Mobile 6.1 device utilising HTC's new Touchflow UI. This device is in a tablet form factor meaning it is touch screen only. It comes loaded with Vodafone Email Plus and the Vodafone Sat Nav program. Launch expected in July."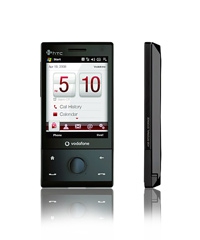 If you're a Vodafone UK customer, keep your eyes open for an HTC Touch Diamond release in July. You will have the option of paying $0 for the device, with some unspecified pricing plan. And each purchase includes a free Bluetooth hands-free car kit. More information on the
Vodafone Business Shop webpage
.
---