Saturday, June 7, 2008
Posted by Darius Wey in "Pocket PC Software" @ 09:00 AM
"FlexMail 4 is a full-featured award-winning (2004/2005/2006/2007) Email application that works with your device's built-in Messaging client to provide the best Exchange and IMAP connectivity available on Windows Mobile! Use FlexMail to improve your ActiveSync or SMS messaging with our multiple signature support, multiple folder searches, and cross-account email copies and moves. Use FlexMail to connect with the best IMAP feature-set on Windows Mobile with easy to configure yet powerful folder settings. Set each folder to download differently, notify of new messages, and get email using PUSH use IMAP IDLE."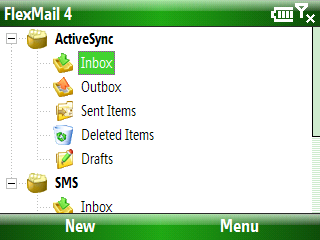 Oops, it seems last week's FlexMail 4 press release never made it into our inbox, so we missed giving you the scoop. But as they say, better late than never.
There are a lot of new features to enjoy in this release, including a revision to IMAP support, MMS support, a redesign of the accounts and application settings, a redesign of the single-page view, new notification settings, and an Asian language encoding plug-in. There's more, of course, but we'd run out of space. If you own a previous version, you're eligible for a
free or discounted upgrade
, depending on when you purchased it. Otherwise, head over to our affiliate software store (
Classic/Professional [Pocket PC]
and
Standard [Smartphone]
) to try or buy.
---