Thursday, April 17, 2008
Posted by Rocco Augusto in "Smartphone Talk" @ 02:04 PM
"In our post last month containing live shots of AT&T's MediaFLO on the LG Vu and Samsung Access. We also told you that the service would launch in May, but further details were under lock and key at the time. Thanks to an anonymous source inside AT&T, we now have all the details you need about the live television service we've all been waiting for. First and foremost, the service will launch on May 4 and will be rebranded as AT&T Mobile TV... That's right people, real deal broadcast TV on your mobile with no buffering time... In terms of what you can expect all this to do to your battery life, Mobile TV will be roughly equivalent to an active voice call."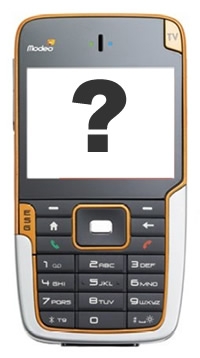 This is fantastic news! Hopefully now we will finally be able to see the HTC Foreseer (pictured above) finally crawl its way out of the great big Windows Mobile heaven in the sky. The chances of us actually seeing the HTC Foreseer again are pretty slim to none since AT&T has opted to use Qualcomm's MediaFLO technology to broadcast real-time television to their handset line-up instead of the European DVB-H standard which the HTC Foreseer utilized. All is not lost though, with
HTC's big announcement
coming up on May 6th there is still a chance we could see a MediaFLO Windows Mobile Smartphone or Pocket PC in our future!
For those itching to subscribe to AT&T's new MediaFLO service, it is scheduled to launch on May 4th, 2008. The current subscription price list is as follows:
Mobile TV Limited - $13/month: Includes four channels; Fox Mobile, CBS Mobile, NBC, and NBC News
Mobile TV Basic - $15/month: Includes 9 channels; Fox Mobile, CBS mobile, NBC, NBC News, Comedy Central, MTV, Nickelodeon, CNN Mobile and ESPN
Mobile TV Plus - $30/month: Includes the nine channels listed above as well as an exclusive Sony Pictures channel
---