Tuesday, March 18, 2008
Posted by Jason Dunn in "Digital Home Hardware & Accessories" @ 07:30 AM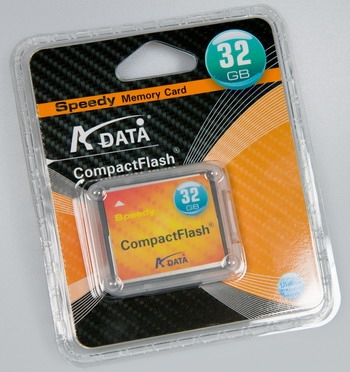 A-DATA has been making news lately for their amazingly low-priced, high-capacity CompactFlash (CF) cards, namely their 32 GB CF card that
retails for $133.99 USD
from stores such as
NewEgg
. While CompactFlash as a memory card format is on the decline, eclipsed by various flavours of Secure Digital cards (primarily SD and microSD), there are still a large number of devices out there with CF slots. I shoot with a
Nikon D300 DSLR
, which has a CF slot and RAW images that are 13+ MB in size, so I was eager to put this massive card to the test. There are also still a few Windows Mobile devices on the market that feature a CF slot, such as the
HP iPAQ 210
, so I wanted to check compatibility and performance on such devices.
The first thing to realize about the A-DATA card is that while it's branded with the word "speedy" on the front, there's no number beside it – this card makes no claims about being 160x, 80x, or even 40x. It's not built for speed – like your local city bus, it's built for carrying capacity, not high-speed manoeuvres. If you want a fast card, check out one of the
305x speed rated UDMA cards from Delkin
, which will run you
$399 MSRP for "only" 16 GB
of storage space. So while this card isn't built for speed, when you have 32 GB of space to fill up, it's important to know how long it's going to take you to transfers your files to it.
I did some basic benchmarking, first using a set of 427 MP3 files (2.09 GB in total) to simulate loading up the card with music before a vacation. The A-DATA card peaked at 3.79 MB/s write speed, averaging 159 MB per minute write speeds, and taking 13 minutes 10 seconds for the task. So if you wanted to put 32 GB of music on the card, you should set aside about 3.3 hours for the task – one of those overnight or afternoon jobs. The card was faster with larger, single files: I transferred a single 2.2 GB video file and the transfer peaked at 5.28 MB/s, transferring 316 MB per minute, taking 6 minutes 57 seconds in total. If you were to fill up the 32 GB A-DATA card with 2 GB movie files, it would take about 1.6 hours – twice as fast as the smaller MP3 files. Moving around 32 GB takes a while over any medium, so as long as you plan ahead with your data transfer, the A-DATA card does the job nicely.
What about using it in a digital camera? When I put the 32 GB A-DATA card in my 12.3 megapixel Nikon D300, I came up with some amusing numbers: shooting in compressed RAW, I could get around 1200 shots (and that number is fluid because the compression impacts each image differently – it would probably be more like 1500). JPEG shooters see some truly ridiculous numbers : I could shoot 2900 fine quality JPEGs, 5800 normal quality JPEGs, or a staggering 11,500 basic JPEGs. As someone who regularly has to switch to a second 8 GB CF card when shooting on a vacation, there's tremendous appeal of having a card so big I'd never have to change to a second card during a day of shooting. In fact, one problem with a card this big is the risk of not emptying it out regularly and using it as a single repository for all your images. That's dangerous because if the card were to ever fail, you'd lose all your images. No matter how big the memory card, it should be emptied out regularly.
The speed of a card impacts its usefulness in a digital camera if the card can't keep up with the write speeds that the camera needs. Because the A-DATA card isn't a speed demon, there's some very minor negative impact here: shooting in RAW + JPEG basic, I was able to get 15 frames shot before I had to stop shooting. By comparison, using my Delkin 8 GB UDMA card, I'm able to get 16 frames. Not much of a difference, is there? The Delkin did finish writing sooner, clearing the buffer for more shots - but unless you're a sports photographer, I doubt this will be much of a problem. I plan on using the A-DATA 32 GB card as my primary digital camera memory on my next vacation, because even if I'm shooting a burst of 10 frames, I'm not likely to ever do that back to back.
On the Windows Mobile side of things, I had no problem at all using the card with the HP iPAQ 210 – the operating system recognized the card as having 30.9 GB of free storage space. The card was fast enough to handle video and audio files played directly off it, and I had no issues moving files to and from the card using the iPAQ 210.
For the price, this card is simply unbeatable - 32 GB of storage for $133.99 USD (at the time of this writing) gives you an amazing $4.18 USD cost per gigabyte of storage. That's unbeatable compared to any other CompactFlash card on the market, so if you need big storage, the 32 GB A-DATA card is the one to get.
Jason Dunn owns and operates Thoughts Media Inc., a company dedicated to creating the best in online communities. He enjoys mobile devices, digital media content creation/editing, and pretty much all technology. He lives in Calgary, Alberta, Canada with his lovely wife, and his sometimes obedient dog.
---