Tuesday, May 15, 2012
Posted by Don Tolson in "Nokia Windows Phones" @ 08:00 AM

Product Category: Windows Phone 7 Smartphone
Manufacturer: Nokia
Where to Buy: Expansys [affiliate]
Price: $765 USD (unlocked, no contract)
System Requirements: Comes with Windows Phone 7 Mango+ (8107) installed.
Specifications: 1.4Ghz single core CPU, 16Gb internal storage, 512Mb SDRAM; 4.3in WVGA (480 x 800) Super AMOLED screen; Quad band (850/900/1800/1900) GPRS, Tri band UTMS (900/1700/2100), HSPA+, LTE 700, 1700/2100; GPS; 8mp rear colour camera w/autofocus + LED flash, 1mp front-facing camera, 720p HD video recording; BT 2.1 EDR; 802.11b/g/n; 3.5mm stereo audio jack; microUSB 2.0; G-Sensor; 128mm (5.03in) x 69mm (2.7in) x 12mm (0.47in); 160g (5.6oz). Full specs are available at the Nokia site.
Pros:
Rogers first LTE-capable WP7 phone!
Solid construction and feel;
Call quality is excellent.
Cons:
No replaceable battery;
Access to the microSIM card is difficult.
Wi-Fi doesn't see the 5Ghz band;
Summary: There has been a lot of buzz (and sales activity) about Nokia's introduction of their premiere WP7 phone to the US marketplace, the Lumia 900. I was fortunate to pick one up the second day they came available through Rogers here in Canada. Now, after a week or two of working with it on a day-to-day basis, let's see how it stacks up.
Introduction
Ever since the introduction of Windows Phone 7, I've been using AT&T branded phones that I acquire from various places, then unlock and use here on the Rogers network in Canada. This means I get to play with phones that most people never even see here in Canada, but the downside is that I'm at the mercy of AT&T with regards to updates and I'm on my own as far as technical support. My most recent purchase was a Samsung Focus S which worked great, but I got tired of waiting for AT&T to finally release the 8107 patch. So, when Rogers announced they were going to bring in Nokia's Lumia 900, I jumped at the chance to get back on a 'supported' phone and pre-ordered it as soon as the form became available on the Rogers. They notified me of shipment on April 7th and I picked up the Lumia 900 from a local store on the 14th.
What Comes in the Package
The Nokia Lumia 900 comes in a nice sturdy slide-out box which looks good, but what comes inside is pretty much the standard fare now.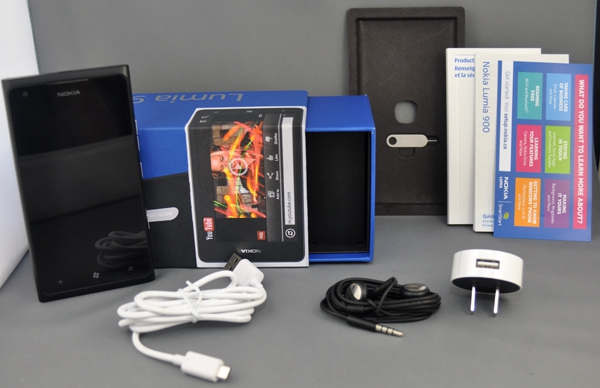 Figure 1: Here's what came in the box. From left to right are: The Lumia 900 unit, a white USB to microUSB charge/sync cable; black earbuds with built-in microphone (Apple must have some sort of patent on white earbuds); a tool to access the SIM card drawer (behind); a button wall charger; and documentation, including quick start card, booklet and safety manual.
---